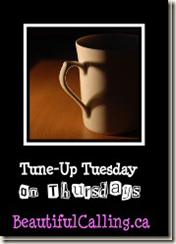 Hello everyone. I just wanted to let you know that my Mr. Linky membership is expiring and I have decided not to renew it. It has been fun (encouraging and keeps me accountable!) to write Tune-Up Tuesdays however, though some may comment, few link up. I have been persistent throughout the year however, I now feel that it is time to retire it.
TUT will still appear once or twice a month but without Mr. Linky. You are always welcome to play along and leave your link in the comments. Our next TUT, we'll continue on from Get It, Together!
Here are the Tune Ups from the past year. Because of the Blogger to WordPress changeover, the tags and categories still need to be finished therefore I didn't have time to locate them all.