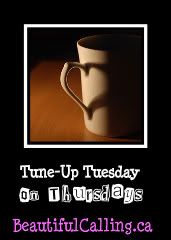 A Google search of 'Tune Up' revealed the following definition:
An Adjustment for Better Functioning
A search of 'Adjustment' revealed the following:
A Small Change, A Minor Correction, A Modification
What is Tune-Up Tuesday? Find out more HERE!
So in the past couple weeks Chloe has graduated from listening to the bedtime prayer to participating. We kneel down beside her bed and our prayer time goes something like this:

Mommy: Let's tell Jesus the things we are thankful for today.

Chloe: Tank you worms, tank you Nana, umm, John-John, Daddy, tank you Dhoe (Chloe), mommy…

Though Worms and Nana are always first, the order of the others changes. Sometimes she adds in other exciting events like swimming or freezes. Once she has run out of things to be thankful for, or vocabulary to verbalize it anyway, then I finish off our prayer.
Each night I smile as I listen to her giggle and thank Jesus for the blessings of the day. While I was ironing last week, I was thinking about this sweet time we spend together and two thoughts came to mind:
Be Thankful for Little Things!
Nothing is to big or small for God. Chloe doesn't think about whether or not freezes and worms are too small a matter to bring to God. Though we know better, how often do we think that we shouldn't 'bother' God with our small requests and praises and that only the big stuff is worthy of His attention? Hebrews 4:16 tells us to come boldly to the throne. If we are hesitant in bringing something to the Lord because it is a small matter, that is not demonstrating boldness! Whether it is a praise or petition, big or small, this week I have been trying to take it to Him. I have been amazed at all the little things that happen in my days that I can praise Him about when I am looking for them. I'll share some of those Finer Things tomorrow.
Be Thankful for Myself!
Chloe thanks God for herself. Now I know she is doing this because she has heard me repeatedly thanking God for her but it got me thinking: while I have certainly thanked God for my Salvation, my health, my strengths and accomplishments, I'm not sure I have ever really thanked Him for making me who I am. I am not sure that I am always that thankful for myself. I am often hard on myself, judgmental and critical.
Have you ever thought:
I should be able to accomplish more

I should be able to give more

I should be more this or that

I should have learned by now

I should be more disciplined and organized

I should be able to lose this baby weight 10 months later!
I know I have! Our expectations of ourselves are so high and often we focus on these limitations and shortcomings as completely negative faults. *newsflash* We are His workmanship (Ephesians 2:10). He formed us in our mothers' womb (Psalm 139:13-15). You and I are fearfully and wonderfully made in His image by Him (Genesis 1:27) – the God who knows everything. He has always known everything and He makes no mistakes.
Those shortcomings and limitations that I am unthankful for were created by Him. Not that this justifies flawed behavior but rather it is an opportunity to Glorify Him! He made them so He would receive the glory as we get the victory and make progress in these areas. Through Him and His strength we can do all things (Philippians 4:13). When we are weak, through Him we are strong (2 Corinthians 12:10). Without our limitations and weaknesses, we could not fully understand that without Him we are nothing.
I want to be thankful for me – for who I am just as I am…a work in progress.
Do you battle with being thankful for who you are? Do you have a tune-up you are working on or completed? Link up or share a comment!