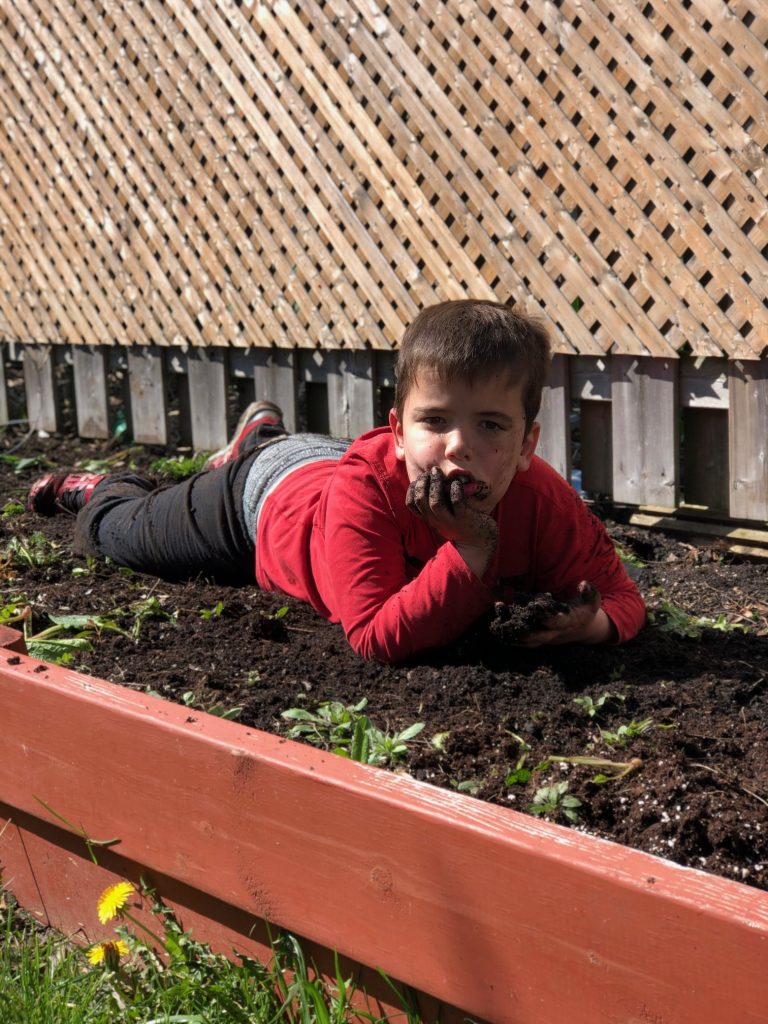 Pondering Life in the Garden
With the COVID-19, the world has become a different place. Some areas are harder hit than others with the virus, or with the lockdown restrictions. We live in Southern Ontario, Canada. Our area has had a fair number of cases, many deaths and some pretty strict lockdowns. The restriction I'm having the hardest time with is that all our green spaces, parks and trails and closed. I miss the trails. Walking is almost as essential to my youngest as breathing is; it's also my sanity saver. We are still walking on sidewalks and such, but it's just not the same.
Other than that, our day to day lives haven't changed much. Isaac sure misses his morning at our local school, C & J are still working towards the end of our homeschooling year. My husband is still going to work each day. The kids do Sunday School on Zoom each week, we watch our church services on Livesteam. I'm still never caught up on laundry. Yep, some things are different and many things are still the same.
I read this verse the other day.
Luke 6:35 But love ye your enemies, and do good, and lend, hoping for nothing again; and your reward shall be great, and ye shall be the children of the Highest: for he is kind unto the unthankful and to the evil.
He is kind unto the unthankful. That hit me! It's amazing. I want to be thankful. I am told to give thanks in everything (1Thessalonians 5:18). I try to be thankful. But I know I'm not there, I am not truly a thankful person, only working towards it. Yet, He is kind anyway. He is so good!
So this week I'm thankful for:
my husband's job
health
my bible
forgiveness
homeschooling
technology
and a few of my favorite things this week
– something old – Slugs and Bugs
Now there are some fun albums; singing about tractors, ninjas, Jesus and more. We've enjoyed these for a few years and though my oldest (13) isn't into them so much any more, she will sing and dance along for the benefit of my youngest.
– something new – Buddy Davis
So we've been enjoying the special videos and activities on Answers in Genesis Canada during the COVID-19 quarantine. There's also a lot of interesting things on Answers in Genesis Kids too. We watched an interesting series on Dinosaurs (we watched the kids track videos) and while we were watching those, we met Buddy Davis, who sang some songs on the show. We enjoyed his songs: Billions of Dead Things, The Woodpecker, Genesis 1:27, It's Designed To Do and more.
– something old – Chicken Pot Pie
While chicken pot pie is old, this was a new recipe I tried. It has a lot of butter which is probably why the filling is so tasty! Ina Garten always has great recipes. So good!
– something new – French Breakfast Puffs
A beautiful lady, Mrs. Hochstedler, the mom of a good friend growing up, gave me a copy of her family's cookbook. I've been enjoying trying new recipes during our quarantine. They're a delicious, special breakfast (or anytime!) treat that I've been making once a week.
Feel free to share what you're thankful for or your something new or old with me!