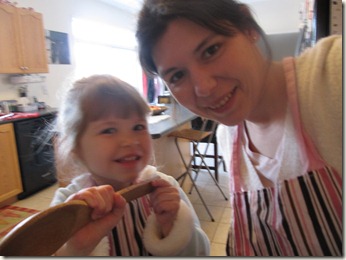 (I thought for sure I had taken a picture of our chicken but I guess we only got a picture of us making it. Sorry about that LOL. At least she's cute right?!)
Chicken Breasts, Legs or Thighs (Bone In!)
Buttermilk or Milk
2 Cups Flour
1 Tbsp Salt
1 Tbsp Pepper
Vegetable Oil
Place chicken pieces in a bowl and cover with milk or buttermilk, cover with plastic wrap and refrigerate overnight.
Preheat oven to 350 deg F
Combine dry ingredients. Take chicken out of milk and coat thoroughly.
Pour oil into a stockpot (about an inch deep – the oil, not the pot) and heat until 360 deg F.
Fry chicken for about 3 minutes per side or until light golden brown. Work in batches, do not crowd.
Remove chicken, place on baking rack on top of cookie sheet and bake for 30 to 40 minutes until done.
Serve with country gravy or sweet and sour sauce!
This post links to
Mouthwatering Mondays
,
Tasty Tuesday
,and
Tempt My Tummy Tuesday
since it seems to go with them all.