This year daddy got a pretty special gift; Teva Sandals. I know that he enjoyed those however the real gifts were the coloring pages, artwork with poem and the special herb garden we planted for him. Daddy loves cooking so the herb garden will bring him great joy this season. We planted basil, rosemary, silver thyme, lemon thyme and Italian parsley. I think that covered the basics don't you?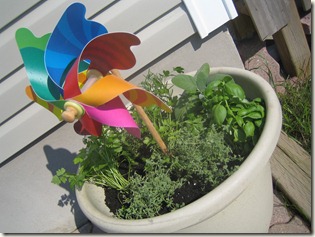 Chloe also made a super great bear craft for fisherman Papa. We all celebrated Father's Day at my parents on Saturday with a lasagna dinner, swimming and a yummy DQ cake. I'm so blessed to live near my parents. We also wish Papa Gilles a Happy Father's day!
Did you have a good Father's Day? Leave your comments and links!