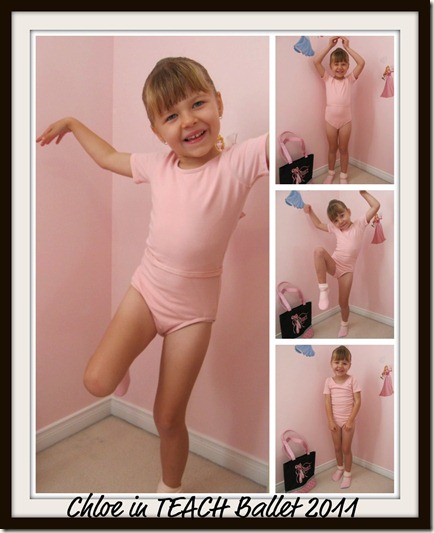 If you've been around a while, you'll be familiar with Chloe's love of tutus and ballet. We had the privilege of attending the Nutcracker Ballet last year. That was a highlight for us for sure!
Though she had asked to take ballet lessons a while back, DH and I said no. Our concern, aside from the financial aspect and time commitment, was also the costumes and makeup. A tour of websites for dance studios in our area quickly revealed that Chloe would not be taking part. It's important to us that little girls be little girls. God didn't design them to be sexy!
Then I attended my first TEACH meeting. TEACH stands for To Educate a Child's Heart and is the local Christian Home Educators group in our area, also a part of OCHEC. Anyway, I guess each year they hire a teacher and put together a ballet class for two or three age groups. It's an 8-10 week session. As far as I can tell, it's pink body suits for tots and navy for older classes. No over-the-top makeup, unacceptable costumes, or anything else concerning. No long-term commitment. Just lessons. Spending a few weeks to learn a little ballet, get a little exercise, meet some other homeschoolers – it' sounds perfect.
Chloe is so excited. She's been dressed for her 11am class since 7:30am this morning when she got out of the bath. I hope she enjoys the classes. Learning ballet is probably much more work than flitting around the house in a tutu!
What is something your child is looking forward to learning?