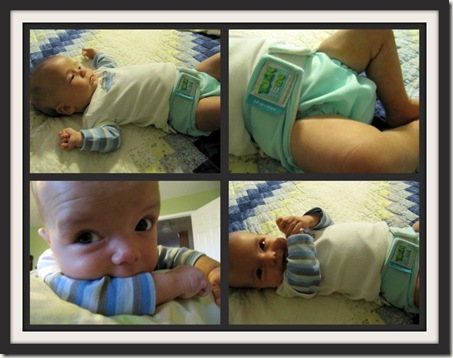 Monkey Doodlez is one of the cutest names I've heard of and their products are just as sweet. I've been a fan of  their swim diapers and wipes cubes for quite a few years so when the opportunity to try out their Tuck and Go system with new baby Isaac, I leaped at the opportunity.
Tuck and Go System
We've used prefolds with wraps, all-in-ones, sized pockets, one-size pockets, the flip system as well a snap-in soaker type so we've been around the cloth diaper circuit a bit.
This diaper is pretty neat. This diaper is a sized diaper and is made up of an outer cover and an insert. The waterproof shell comes in an assortment of colors and fastens with Velcro for a custom fit. The edges are all lined with micro-fleece for comfort and the front and back have little tuck zones where the inner liner is held secure but they flip out with ease. The covers are designed for use with the Tuck and Go pads however you can also use them as covers for prefolds or fitteds.
The TAG pads are "made from a blend of 70% Bamboo Rayon, 28% Organic Cotton and 2% Polyester for optimum absorbency, breathability and comfort, with silky soft velour next to baby's skin."  They are very soft and quite absorbent; I haven't had any leaking issues. It's a fantastic system since I can just toss the wet pad in the wash, tuck a new pad in and reuse the cover. Less laundry makes mommy happy 🙂
They also have AIO's as well if that is more your style but let me tell you, once you try these Tuck and Go's, I bet you'll be as thrilled with this unique system as we've been.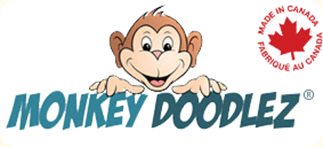 About The Company
"The name Monkey Doodlez was Cheryl's oldest daughter's nick name as a tot, so it seemed only a natural fit for the product line. Born on a dining room table, Monkey Doodlez has now grown to serve nearly 500 retailers around the world.
Monkey Doodlez products have always been made in Canada, sourcing as many materials as possible from Canadian suppliers. We opted out of a factory environment, choosing instead to employ home sewers, to provide them with flexible hours, competitive wages and the opportunity to spend more time with their families. The end result is excellent workmanship."
Products & Coupons
In addition to diapers, they carry swim diapers, wipes cubes, wet bags, pail pals and so much more. Their website is also chock full of helpful resources as well.
You can find a Progressive coupon code on the MonkeyDoodlez Facebook page and RockinGreen Facebook pages.
Do you use Monkey Doodlez in your family? If so, you may want to check out their monthly photo contest. I'll be entering my cutie Isaac!
Disclosure: All wonderfully insightful and honest opinions are my own and we received a Tuck and Go diaper to facilitate this review.