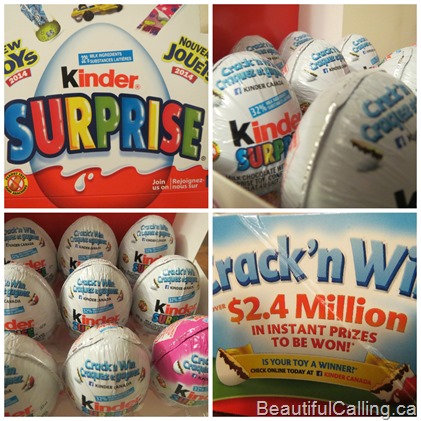 I'm an incredibly lucky gal. I have a great husband, wonderful children, a warm home…oh, so many blessings. But I'm generally not so lucky when it comes to contests. There was this one time, a very memorable time, when I won something. I won a pair of tickets to see The Lion King musical in Toronto – really great seats too! My sister and I went together. It was such a wonderful night, and our last adventure as single ladies since she got married just days later!
Kinder® is always keeping things EGG-citing. They have launched their new toy collections and they have a fun promotion designed to celebrate: Crack'n Win® with lots of prizes available so your chances are good!
"There are over $2.4 million in instant prizes to be won and entering couldn't be easier! Inside each specially-marked Kinder® Surprise® egg, you will find a PIN embossed on the toy and/or toy leaflet within the capsule.

Once you've found your code, entering the contest is super-duper easy. Simply visit the Kinder® Canada Facebook Page, "like" it if you haven't already , enter your PIN code (along with some additional information as required) and click "Check Your PIN"."
What are the prizes you ask? One lucky ducky will win a Fiat 500 POP and two fans will win a family trip to Orlando! There are also movie nights and free Kinder treats to be won as well.
And of course you can see the new toys on their Facebook page. Some toys are more of a hit with my tots than others. The little fuzzy tummy toys were a big hit. We keep them in a Ziploc container and my tots usually play with them when playing lego, blocks and building other good things.
Do your tots have a favorite Kinder Toy?
#KINDERMom
 "Disclosure: I'm part of the Kinder® Mom program and I receive special perks as part of my affiliation with this group. The opinions on this blog are my own".