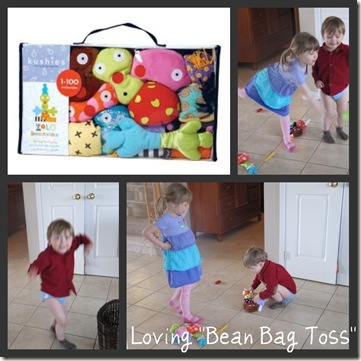 I know the one picture of John is super blurry but you can still see the look of joy and delight on his little face; he just got it in the basket!
You may or may not have noticed that my weekly Tot School post has been missing. We've all been under the weather a bit at one point or another. I'm hoping that we're all on the mend now…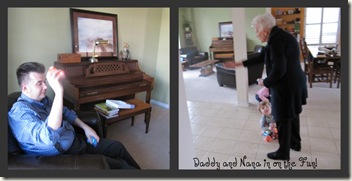 A few weeks ago we added the Kushies Beanstax to our toy stash thanks to Baby Heist. I really like them. Each beanbag is a different size, shape, texture and color. They can be stacked to make critters/creatures but we've been using them to play beanbag toss. Even daddy and Nana are getting in on the fun.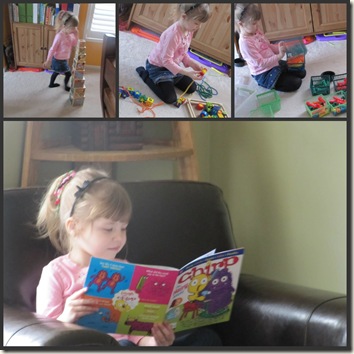 Chloe spent some time stacking with our Melissa & Doug Wooden Blocks, Lacing with Beads and sorting colors with Lauri Pegs and strawberry baskets. She also got her newest issue of Chirp, which she loves. We decided to subscribe shortly after her fourth birthday; homeschoolers receive a discount (yay!). I think the magazine is quite well done, perfect for her age and a very special treat for her.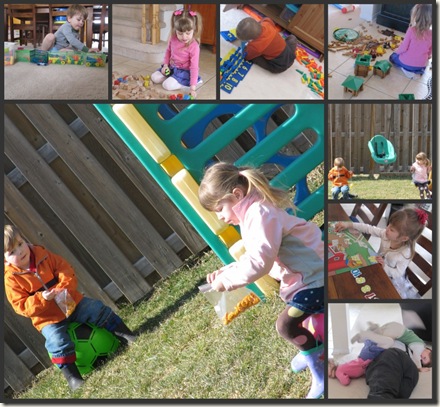 John loves to sort the Lauri Pegs and play with the number boards while Chloe plays with the  magnetic counting farm. We also got some outdoor play days in when the temperature spiked – hurray for spring!
We also worked in a few crafts from Shirley's Prepackaged Crafts; I'm loving them!
Chloe is 4 years & John is 31 months
This post links to
Tot School
,
Explore, Play & Learn
and
Preschool Corner