I love The Old Schoolhouse Magazine, especially their ads. A funny thing to like magazine ads but there are so many interesting ones and I discover many wonderful resources through them.
What is Shirley's Prepackaged Crafts?
In the fall issue of TOS, I discovered Shirley's Prepackaged Crafts. I immediately visited the website, read the testimonials and fell in love with the idea; a simple one that fills a need.
"the preschool non-curriculum for homeschoolers"
My littles love craft time. I have no shortage of ideas, thanks to the internet and the vast amount of information available there. But at times, I find myself short on time and/or the energy to put anything together and often craft time is just coloring time!
Shirley's Prepackaged Crafts addresses that need. I ordered the December craft box; one for each of my littles. When the box arrived it contained everything needed to make a dozen crafts. The only thing I needed was scissors, glue etc.
I'm expecting our third baby this spring and my energy levels were at a low. This "everything you need in a box" enabled me to have this special time with my tots with little effort on my part.
What Does the Kit Contain?
a letter to the parents with helpful suggestions and ideas
complete instructions for the crafts
all the materials needed to assemble the 12 included crafts
a suggested reading list
a snack suggestion list
Craft Examples:
Our Bell Instrument was a hit. Both were able to make it almost entirely on their own. They delighted in shaking the bells, having  a parade, sing-a-longs and more!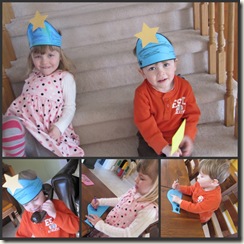 The Wiseman crowns we made were  a hit too. Though they need help with cutting, they glued and colored on their own. There are few things that my littles like better than gluing things!
Who is it appropriate for?
Chloe turned 4 in January and John is 2 1/2. I found the crafts to be quite appropriate for both of them, with John needing a little more help here and there than Chloe, as expected. Chloe did need some help with cutting some of the crafts, though we are working on her cutting skills. Both enjoyed the crafts greatly. They couldn't wait for daddy to come home to show him proudly what they had made each day.
Questions?
You can read more about Shirley's story and how this is not just a job for her but a ministry. Do you have questions? Check out her FAQ or contact her through her website www.shirleysprepackagedcrafts.com.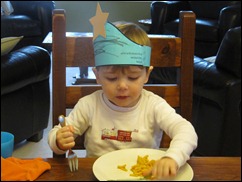 John at dinner the other night; still playing with his crown. I'm impressed by the 'usefulness' of many of the crafts. It's something they can actually play with, pretend with or give as gifts. They are so age appropriate.
Ready to Buy?
You have the option to purchase one month at a time or in bulk to save money!Are you ready to order now? You won't be disappointed!
How often do you do crafts with your preschoolers? Do you ever run out of ideas or time to get supplies together?