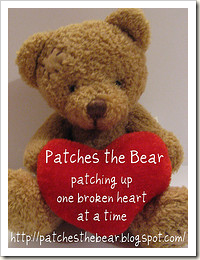 This is Patches the Bear. He arrived to visit our family on February 17th. His timing was perfect since February 23rd marked 5 years since we lost Isaiah in a miscarriage that broke our hearts.
In 2009, I felt led to share the story of our loss in a Miscarriage Series in hopes of being a help and encouragement to those out there with grieving hearts.
I don't remember exactly when I stumbled across Patches the Bear's blog but if you visit it, you will discover that in 2009, Patches began travelling across Canada and the U.S. visiting families who have experienced a pregnancy or infant loss.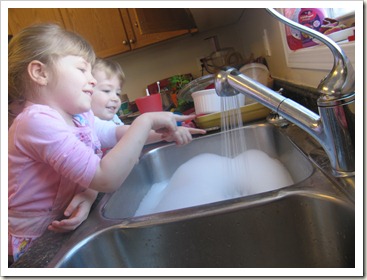 Chloe & John 
Since losing Isaiah 5 years ago, we have been blessed with Chloe (2007), John (2008) and I'm expecting a little boy in May 2011.  A combination of pregnancy fatigue and crummy weather, Patches didn't have a very eventful stay here however he met the children and brought a smile to my face as he graced my desk.
Thank you Patches for visiting our family and thank you to Ter, who lost a husband and a daughter, for dreaming Patches up and desiring to make a difference! I don't know where Patches will head next but will update the post when I do.