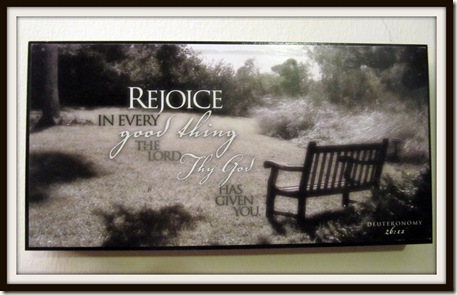 I took a picture of this little plaque that hangs on our wall in the library, in memory of Isaiah; who was a good thing! You can read what I wrote on the back here.

Five years ago today, we experienced a devastating loss and I was forever changed. We lost our first baby though a miscarriage. Five years ago, we lost Isaiah. It doesn't feel like it's been five years; it's so fresh in many ways. I have healed, He has healed me. But it still hurts, I still remember with a stab of pain and I still cry for him. My sweet little baby in heaven.
Since then the Lord has blessed us with two more little ones, and another on the way.
Let me share with you our journey to healing. Keep in mind that every women, family and situation is different. What worked for us, may not for you.

God's Been Good –Legacy Five
Lately I've been looking back along this winding road
To the old familiar markers of the mercies I have known
I know it may sound simple, but it's more than a cliche
There's no better way to tell you than to say:
God's been good in my life
I feel blessed beyond my wildest dreams
When I go to sleep each night
And though I've had my share of hard times,
I wouldn't change them if I could
'Cause through it all, God's been good.

Times replay, and I can see that I've cried some bitter tears
But I've felt His arms around me as I've faced my greatest fears
You see, I've had more gains than losses, and I've known more joy than hurt
As His grace rolled down upon me undeserved.

God's been good in my life
I feel blessed beyond my wildest dreams
When I go to sleep each night
And though I've had my share of hard times,
I wouldn't change them if I could
'Cause through it all, God's been good.

For God has been my Father, my Savior, and my Friend
His love was my beginning and His love will be my end.
I could spend forever trying to tell you everything He is,
But the best way I can say it is this:

God's been good in my life
I feel blessed beyond my wildest dreams
When I go to sleep each night
And though I've had my share of hard times,
I wouldn't change them if I could
'Cause through it all, God's been good