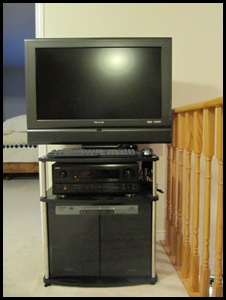 In April I talked about buying TV stands online because I had the opportunity to review a TV stand from CSN Stores.  It arrived quickly and in good order. My husband, who writes at eBabble.net, set it up so I thought he could share his opinions.
We set up a television upstairs just outside our library, for cartoon and DVD viewing for the children when some "quiet" time was needed.  A basic set up: 32" LED television and DVD player.  My wife had the opportunity to try the Convenience Concepts 24" TV Stand with Cabinet , a basic television stand with one shelf and glass doors.  This is a basic stand that takes little space but elevates your television to a good viewing height.

Assembly was straightforward: the cabinet is held together by attaching four long pillars to the base and top, then four short pillars on top of that to create the shelf.  The walls of unit are cardboard but just slide into grooves in the wood and don't bear any weight.  The glass doors use magnets to stay closed.  All in all it assembled quickly.

At first glance the stand didn't seem like it would take any weight with the corner pillars holding it together but with the television on top and DVD player on the shelf it was solid.  Lifting and sliding the unit with equipment in place was possible: I moved it around a few times to complete wiring and optimal position.

I did manage to put two bookshelf speakers in the cabinet, a DVD player on top of the speakers and an AV receiver on the shelf but that's because I had issues with the television speakers.

Don't think of the cabinet or main body of the unit as anything other than storage: with no shelving inside it doesn't do much, but that's the point of this unit.  The Convenience Concepts 24" TV Stand with Cabinet is meant as a basic stand for a television and DVD player, nothing more. It gets the job done, gives an excellent viewing height and delivers at a low price point.
We've been using our TV stand now for about 10 months and are very happy with it; it's basic, fits the space available and is quite economical. With our TV set-up, a selection of educational and Christian children's movies and a couple of beanbag chairs; our little video station is the perfect spot for when mommy needs a little break or as a reward at the end of the day for well behaved little ones!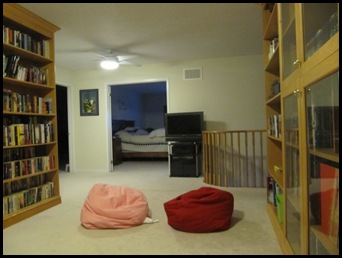 I do want to mention that if you're in Canada, the taxes and duty on your order can be a bit prohibitive.
CSN Stores has over 200+ shops with something for everyone! My current wish list could be miles long! A Medela Breast Pump, nursing pillow, Amy Michelle diaper bag, Melissa & Doug Fold n Go Dollhouse, Pirate Ship Lamp, Hop Scotch Learning Rug…wow, what a list!
What's on your CSN Stores shopping wish list?
Disclosure: Thank you to CSN Stores who provided the TV stand to review at no cost to me. The opinions expressed here are my own. I was not compensated in any other way for this post.