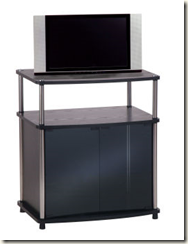 Have you ever considered buying TV Stands online? Did you even know you could buy TV stands online? I have to admit I never and I didn't.
We recently decided to add a small TV to our library upstairs. It means I could do my morning yoga upstairs without having to move the coffee table in the TV room downstairs to do it. It also means that when I have an Epicure event that daddy and the littles could watch a movie or something upstairs.
We have a small flat screen TV that will do the job nicely. We've been on the lookout for a basic, inexpensive stand that would do the job. You would think it would be easy to find but it hasn't been. We began considering whether to wall mount it; something that I'd rather we not do.
When CSN contacted me a while ago about a review, I was busy and didn't really have time to follow up. Earlier this week I did and was pleasantly surprised to see that CSN Stores had exactly what we had in mind for a TV Stand on their site in the exact price range we had in mind. Isn't that neat? I would never have thought to look at an online shop for a TV stand but it certainly is a convenient way to shop isn't it?
CSN Stores has over 200 shops that cover everything from TV stands to toys and baby items to shoes (Oh, how I love shoes!) to cookware (they have Le Creuset!)and so much more. Watch for the upcoming review!