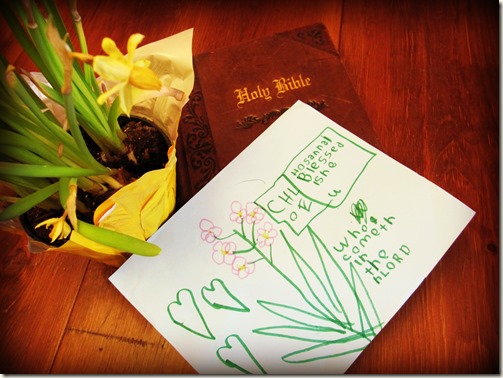 Hosanna; Blessed is he that cometh in the name of the Lord ~ Mark 11:9
Good Friday is such a bittersweet day. The day we remember His death at the cross. The day He may very well have been thinking 'better me than you'.
There's a song reminds us that He could have called ten thousand angels. It amazes and humbles me that He chose not to.
                       He chose death. He chose me.
Easter Sunday. Resurrection Sunday. An empty tomb that means all the world to me. How incredible.
      He lives! Up from the grave He arose.
            He has victory.
                          We have Victory. Victory in Jesus!
Redeemed by the blood of the Lamb!
Chloe copied out a verse we had on the chalk board a few weeks back. I meant to post it for Palm Sunday but you know how life goes. Happy Easter my friends!