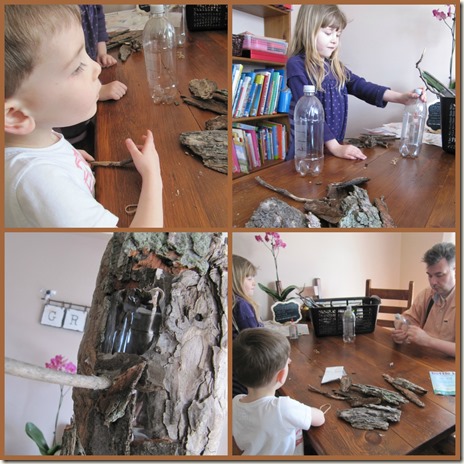 The tots got a magazine from McDonalds a while back that had a pop bottle birdhouse craft in it. Since moving here last spring and hanging up our first ever feeder, our family has become bird watchers. The tots love, love, love watching the birds come to the feeder and trying to identify them. But Chloe has been becoming increasingly concerned about a place for the birds to live so the timing for this craft couldn't have been better.
The past several weeks have been spent collecting materials. Every time we went for a walk, the tots filled the basket of the stroller with sticks, pine cones and bark. Each time Chloe went out bike riding, her basket came home filled with supplies. John wandered through the bushes finding just the right sticks. Our porch has been overflowing with bark, sticks and pinecones so I was definitely ready to get this craft done!!
Since DH has a love of McDonalds and that is where this pamphlet came from, I foisted this craft off on him  allowed him the opportunity to do this craft with them.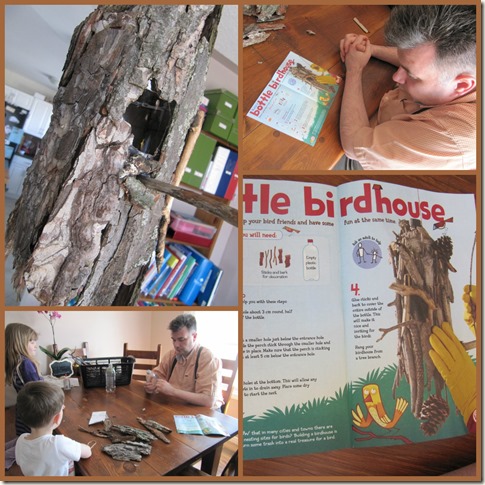 Because of the weight of the sticks and bark, we ended up using a hot glue gun. It was very effective however because of that, it ended up being more of an adult-assembled craft. Despite that, the children are very, very pleased with their craft.
Daddy, directed by John, climbed the ladder and hung the houses in just the right spots. Now we're just waiting for a few of our feathered friends to move in.