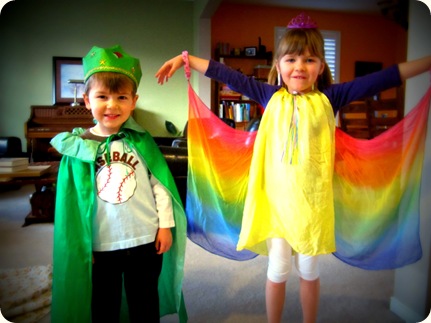 Chloe and John love their Sarah's Silks dress up clothing. We had the perfect opportunity this week to wear these lovely creations out of the house legitimately. Saturday was the annual Storybook Breakfast fundraiser and the tots had a wonderful time.
This year the books we received at the breakfast were Olivia Saves the Circus, Dancing Feet and Hippo Goes Bananas. We read the latter this afternoon. What a funny, sweet story presenting a great opportunity to talk about embellishing or exaggerating the truth.
What was the best book you read this week?
Sarah's Silks also offers seconds and sales which is how we are adding to our collection.
This post links up to Small Style