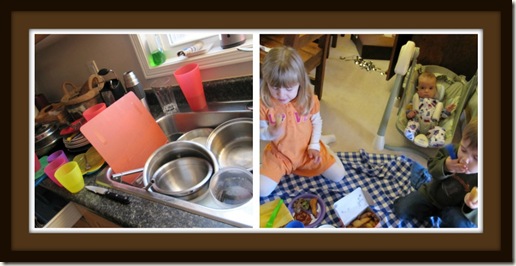 Things flow smoothly, the laundry is caught up, folded and where it should be. I've done the dishes after dinner so we wake up with a fresh start each morning. I'm feeling like I have it all together.
But then I don't.
With all the doctors appointments, we're often out several times a week. Isaac doesn't sleep through the night. Not only does he not sleep through the night, he hardly naps during the day. I'm up 4-8 times a night, with 4 times being the rare occurrence.
I'm tired. I wish I could sleep, but each time I get up with him, I remember how thankful that I am that he is able to nurse because for the first month, he just ate through a tube, unable to nurse. I remember that this is the last time I will have a sweet baby to nurse. I remember how fast these sweet baby days are going to pass for I look at my two tots, who grew so fast.
Lately, the dishes often pile up as I am trying to deal with everyday life with three littles. How did I manage before? How can I get back those easy smooth days where the house is orderly? Then I remember that my family, the littles, are where my focus should be. When will I learn to let go of the guilt that comes from a full sink and accept that I am choosing the better part when we have an impromptu Chinese picnic because it's best for the sanity of the whole family?
Oh, the day will come when the house is perfectly ordered. My children will be grown and out on their own. When I look back and remember this season of my life, will I be happy with the choices I made and how I've set my priorities?