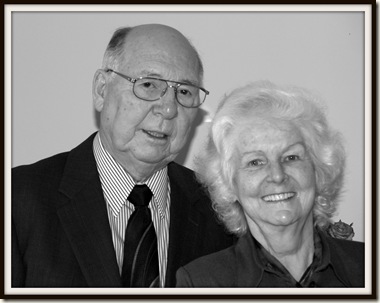 A Mentor and Model
My grandmother was an extremely influential person in my life. She was a woman of many talents. She was a wife and mother, a cashier, a produce manager, a baker, housekeeper, counselor, friend, shoulder-to-cry-on, cook, laundress, gardener, farmer, taxi, cancer survivor and so much more. One minute she could be in rubber boots, feeding the horses or weeding the carrot patch but the next minute she would be dressed in heels and pearls all set for church.
Grandma was a real lady, inside and out.
She experienced many challenges in her life, yet she was able to rise to the occasion. Whether they were personal challenges, family challenges, health related challenges – with her pluck and her faith, Grandma was able to meet them.
She grew vegetables, made preserves, baked bread from scratch. With grandma, there was no drudgery in homemaking but rather fun, fellowship, pride and satisfaction in a job well done.
Grandma encouraged us in whatever we were doing. My entrepreneurial spirit kicked in at a young age and Grandma was there, providing garden vegetables for my roadside "store", or to help pick – and encourage me in my blueberry selling business.
Later on, grandma and grandpa provided access to their truck so I could work the late shift at the pizza shop. Years later,  they appeared significantly impressed and asked endless questions when I landed a really well paying job with fantastic benefits and the option to continue my education.
But when my husband and I made the decision for me to leave that successful position and embark on my new career as a stay-at-home mom, my grandmother was so proud.
For you see, there are lots of wonderfully important careers out there and being a stay-at-home mom is one of them. Some people forget that, but not grandma! I loved that grandma was proud and supportive of any and all ambitions and endeavors that I undertook!
I learned so much from grandma. Grandma truly did believe that I could be anything.  I want my daughter to grow up knowing that it is what is on the inside that is truly important, that character is key, that caring for your family is a blessing, a gift and a calling. I pray she will come to know that success isn't based on having a career, that happiness isn't in proportion to your bank account balance and that the value of people can not be counted.

What about Barbie?
Growing up, I played with Barbies. I'm not a feminist and don't believe that woman should and can do everything but I believe that women play a vital role in our homes, communities and global society. I like the "I can be" campaign because it can help girls see themselves in a variety of careers that aren't necessarily a position traditionally held by women. That being said, I hope Mattel will bring out a Barbie that highlights the career of mother too. Let's let girls know that the world of career options is wide open to them but that choosing to be a homemaker is a valid choice too!
Take time to visit the new Barbie I Can Be website www.bethevoice.ca and see what parenting coach Terry Carson has to say. I really enjoyed the article "As a mother and mentor".
I want my daughters to be proud but carry humility in their back pockets.

I want my daughters to live in the present because dwelling in the past does no good.

I want my daughters to be frugal without being cheap.
National "I Can Be Day" has been declared and will take place on October 27, 2011, where participating schools will be encouraging Moms come in to speak about their careers. If I were presented with the opportunity, I would love to share how choosing to be a stay-at-home mother is also an important, valid and rewarding career that impacts and influences their lives for eternity, our community, and the future of our society.
Who was a prominent role model in your life?
Disclosure – I am participating in the Barbie I Can Be campaign by Mom Central Canada on behalf of Mattel Canada. I received compensation as a thank you for my participation.

The opinions on this blog are my own.

Join in the fun #BarbieICanBe

Personal Note about Barbie: My daughter plays with Barbie and loves Barbie but I do wish that Barbie's clothes were a little more modest, with more one piece swimsuits and longer dresses.