Last week Chloe and John both came down with fevers and the following day, Daddy was sick too. It made for a rough week with very little "school" going on and a whole lot of cuddling, book reading and movie watching.
Thankfully everyone was feeling better in time for Chloe's 4th birthday party on Friday.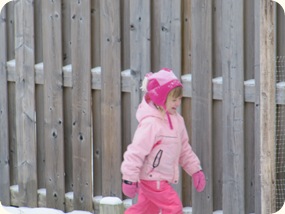 Snowy Play: Chloe marched around the yard making "tracks" in the snow and generally being pleased with herself!
Sword Play: the littles got silk swords for Christmas. John likes to play with or without Chloe and is seldom in one place for me to snap a non-blurry picture. I love that they use their imaginations so well when playing.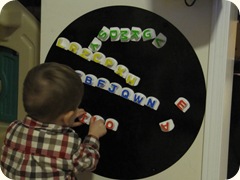 We have a circular magnetic board in the play area where we keep all the letters. We used to keep them on the fridge but then they would fall off and be on the floor, all annoying-like. Now that there is a special spot in the play area, they can enjoy them and we don't have have them all over in the kitchen.
I "caught" John lining them all up, sorted by colors. When he saw me, he said, "Mommy, I make your name and daddy's name. Dis one say John and dis on say DOh-Ey".  I think that is so adorable that he's trying to spell names.
I'm looking forward to starting school again this week. I think I will do our school posts on Fridays though. We'll see.
This post links up to Tot School and Preschool Corner– linkups of ideas for you and your tot!
Chloe is 4 years old, John is 29 months
Week #11