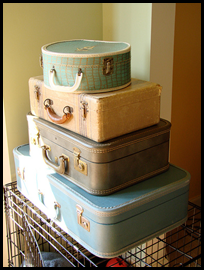 Photo by Mollypop
Do you ever wish you could just pack up and go away? By yourself? Or just step into someone else's life?
Do you ever feel like the world is crashing down around you, though you know that if you looked at it from the outside in, it isn't as bad as you think?
Today I received a phone call that left me disappointed and then an email that left me sad. My great uncle had passed away. I haven't seen him in years and honestly? I have more not-so-great memories of him that great ones but he sort of seemed like a tie to Grandpa still; so hearing of his death today was hard.
Anyway, during naptime, feeling particularly down, I chose to write a post about honoring obligations; a post that was far too hasty in coming and perhaps should not have been written at all since it caused someone the feelings I was feeling.
#2 It's important to always honor my own obligations to the best of my ability so as to not be responsible for someone else feeling the way I feel right now; cheated, let down, betrayed.
I've sent an apology email; though an apology seems lacking in email format. I'm not sure how you express sincerity in written word.
I have a few posts already scheduled to come up over the course of the month, I hope you enjoy them. I'm going to take a break.
Someone pointed out how well I am doing but the thing is, a blog is but a snippet of someone's life; the part they choose to share. The truth is, battling the morning sickness, extreme fatigue and something unknown, I'm on overload. I can't do it, I can't do it at all. I'm overwhelmed. I'm failing in so many ways.
My mother has been incredible; a lifeline. She's been a source of physical help and been there for me emotionally. She was the first person I breathed the words, "depression" to. I wrote a post about it this fall, but never published it. Fear, I suppose. I scheduled it for Monday.
Anyway, this post is written on the tail end of a long and emotional day. Maybe this post too, wasn't meant to be written.