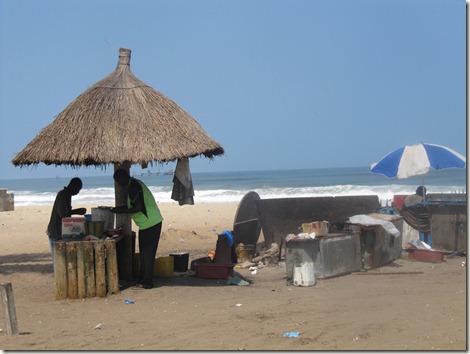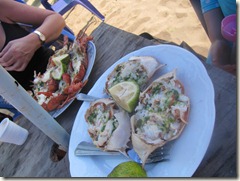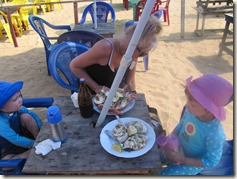 The seafood is caught by fisherman in little boats that disappear in the waves. it's cleaned on the beach and cooked over a fire under a grass umbrella and served to us on wooden tables on the beach.  We've had crab, lobster, calamari and oysters. I have to admit that the prep area is not sanitary at all, nor are the flies all over the raw food but the end result is delicious.
So yesterday we were heading to the local market and I spotted a really cool lizard with a blue head. I whipped out my Canon SX200 to snap a picture and got "Lens error, restart camera." I changed batteries, and did everything I could think of but nothing seems to fix it. A Google search revealed that this is a common problem and seems to be unfixable. I suppose we'll contact Canon when we return in a few weeks.
I'm so disappointed. I love this camera. Though it is bigger than the teeny digital cameras, it is exactly what I wanted. The photos are amazing and it has tons of great features. I can't believe that we still have a third of our vacation left and my camera doesn't work. What a time for it to crash.
Thankfully DH brought his camera; the little Canon we bought 5 years ago before our honeymoon. It's not as awesome and feature-packed as mine but his works so he's got me beat there!
Maybe it's just as well that the camera broke. I was planning to take some pictures and share my initial African impressions, which weren't that great. We'll see…