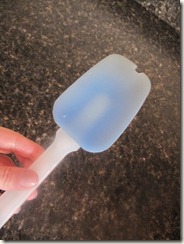 I bought this spatula (2/$1) at the dollar store years ago when I got my own apartment. I'm now married and it is still kicking around. It's a great spatula but I am even more enamored with it now.
You see that little missing piece? I was baking in the kitchen one day with baby John at my feet. I handed him a spatula to keep him occupied. When John gave it back, I discovered that he had his first little tooth through. (I had known it was coming, just hadn't realized that it was through and functional LOL)
Yes, I still use this spatula and it makes me smile every time I pull it out. It reminds me of days gone by and helps me remember to embrace these times for they are my future memories.
Lord, thank you for all the special stages that we've been blessed to go through with our littles. Though some are more difficult than others, each leaves us with priceless memories; a gift from You!