GG arrived last week. We wanted to make her arrival special. We made some welcome banners, drew some special pictures and made a "vase of flowers" to greet her when we picked her up at the airport.
Egg Carton Tulips
Cut out the egg holders into 12 little cups. Then cut "V"'s out of each cup to make a tulip head. We used Elmer's squeeze and brush (a birthday gift from her friend) and it worked out awesome. You could also use markers, crayons or anything really. Then we (mommy) poked a small hole in the bottom and put in a pipe cleaner stem. By making a little twisty bump in the end of the pipe cleaner then it will stay. I had a couple jam jars and used tissue paper wrapped in the bottom to hold them in place.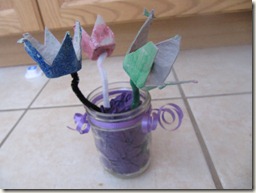 Chloe was really happy with how they turned out. We made a jar for gram as well as for GG. We have a few more people to make some for. What a perfect spring time craft!!