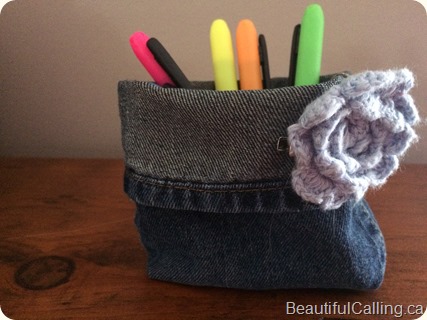 I'm not a sewer. But I saw this tutorial for simple denim bags (or storage-y buckets) out of recycled jeans and thought perhaps I could do that. More importantly, I was pretty sure my daughter could.
Chloe asked for a sewing kit for her birthday and I purchased a very simple one for her. I also picked up a little bit of fabric for her to play around with. Combine that with the stack of pants that Isaac has worn out the knees of, and she'll have plenty of things to cut up and sew. She mentioned wanting to make a pillowcase for a lady she prays for regularly. We'll see.
I zipped up this little bucket in about 3 minutes! It's kind of cute. I think bigger jeans than size 3T would make for bigger (more useful?) buckets? I played around with a variety of Chloe's hair accessories and she decided she liked the blue little flower the best.