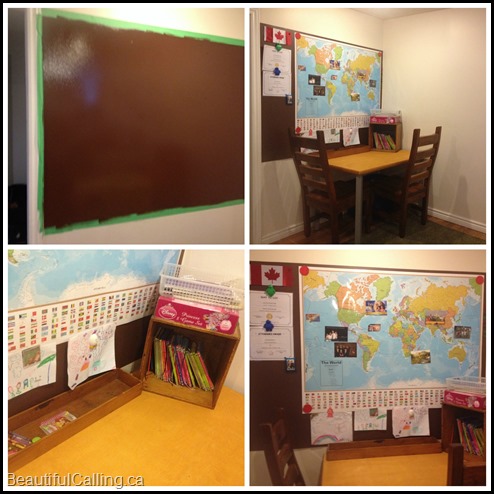 Last summer we bought a map for about $7 at Costco. It's pretty big, it's poster-like but lightly laminated if that makes sense. Wipeable, I guess you could say. I didn't want to…well….tape it onto the wall like I did with posters when I was 13 so I toyed with finding a frame for it, but it's so big. Make a frame, maybe? Cork board? Bulletin board? Then I had the genius idea to use some of that magnetic paint to paint the wall and use magnets to put it up, except that a friend of mine had used that paint and said it took a million coats and even then, the wall still wasn't that magnetic a surface. Not what I wanted.
I don't even know where the idea came from but a stroke of genius and I was on the hunt for a large piece of sheet metal. I found what I was looking for, thanks to my husband's connection with an electrical company: a thin piece of metal approx 5' long x 4' high.
I brought it home and spray-painted it but since I'd done it outside, leaves and such kept sticking to it and the paint wasn't super even. I ended up bringing it inside, screwing it to the studs in the wall, framing around it with painter's tape and then using a roller to paint it brown.
We have these magnetic push pins to put up pictures, missionary prayer cards and such.
I love that we have a big visual on the wall, a reminder to pray for our missionaries, an easy place to reference for a general idea of where a story took place and an extra spot to put up artwork (this picture was taken in February when we put it up…it's a little more full now).
I'm really happy with how this map space turned out and how this little learnning corner is taking shape. More about that in a coming post.