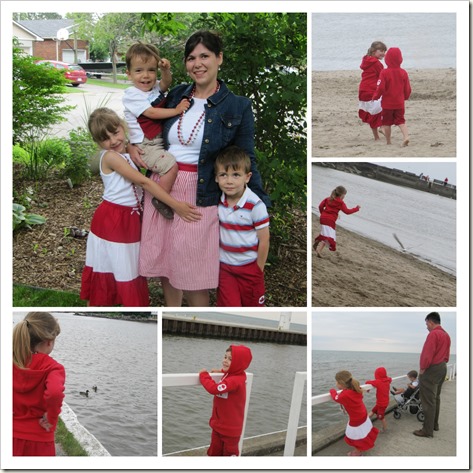 Canada Day we went to Port Dover for a fish dinner, a walk on the beach and beautiful fireworks.
I have to admit, I teared up as the crowd sang Oh Canada and the fireworks started. I'm so proud to be Canadian.
"When the fathers of Confederation were assembled discussing the terms and conditions of Confederation and the drafting of the British North America Act there had been considerable discussion the day before and many suggestions as to what the new United Canada should be called, and no conclusion had been reached. The discussion on the name stood over until the next day. The next morning, as was Sir Leonard's custom, he read a chapter from the Bible, and that particular morning he read Psalm Seventy-two. When reading verse eight of the said Psalm—He shall have Dominion also from sea to sea—the thought occurred to him, what a splendid name to give Canada. When he went back to the sitting of the convention that morning he suggested the word "Dominion," which was agreed to, and Canada was called the "Dominion of Canada." 
I love Canada. But our country – our society – is in trouble. Canada needs to stand. Christians to lead. Christians to pray!
2 Chronicles 7:14
 If my people, which are called by my name, shall humble themselves, and pray, and seek my face, and turn from their wicked ways; then will I hear from heaven, and will forgive their sin, and will heal their land.
Pray for our country and our leaders today!
Happy Canada Day!