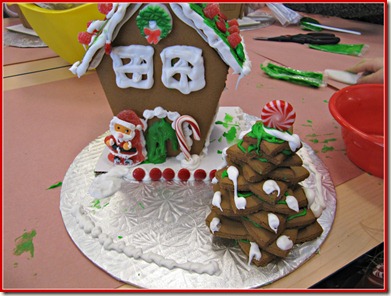 This year we didn't assemble a house at home but signed up for a Gingerbread House Workshop at our local President's Choice Cooking School. The children really enjoyed themselves though I think it wasn't as fun as the years we've done it at home. I missed the Christmas music playing in the background and…it just didn't feel quite right.
That being said, this is the first year our house has been assembled straight. They had them pre-built for us and we just needed to decorate them.
Our 2010 Gingerbread House was actually pretty nice looking too. Apparently in 2011, we were too busy enjoying the moment to take any pictures.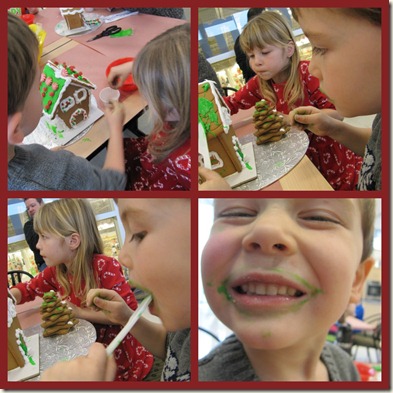 After the tots had noon nap – guess what afternoon snack was?!?
Talking to DH today, he asked about homemade gingerbread. Hmmm. Sounds delicious but am I up to the task of taking said gingerbread and making it into a house in some way? Maybe next year!
So have you ever made a gingerbread house from scratch or are you a 'kit' family?