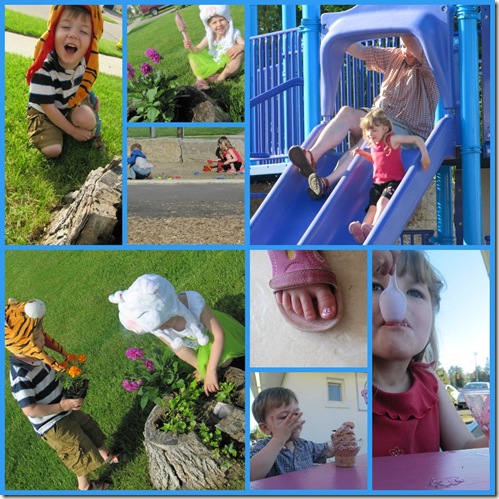 This past week was enjoyable. Knowing that soon my time will be divided between the littles and a new baby, we've been thoroughly enjoying this last week. Planting flowers, ice cream treats, extra stories, fun at the park…
You can't see it well in the photo but Miss Chloe has sparkly butterflies on her big toes, yet another special treat of the week.
The littles spent last night and tonight with my parents, a special treat for mommy. I finished up a few things around the house, made myself waffles for breakfast, took myself out to lunch and had a mani/pedi. I also had two dinners out with my husband. I'm blessed!
Today is my official due date, not that a date means anything to the little one wiggling away, warm and comfy inside me.
If sweet baby doesn't arrive tonight, I'm heading to a mom to mom sale tomorrow with my sister before picking up my little ones. Then perhaps an afternoon nap. I have a tough time napping on a regular basis, trying to shut my mind off but I'm finding it easier and easier lately.
How about you? Can you nap during the day?