John studying our subway map. Chloe and John peering into the car ahead.
This week our Tot school looked much different; we took it on the road! As a finale to Thankfulness Month, we spent last week in Annapolis, Baltimore and Washington. An enjoyable trip that provided plenty of learning opportunities!
The Museum of Natural History in Washington was where the three of us headed while daddy visited the art gallery. From the giant mammals to the dinosaur wonders and 'underwater' sea gallery, the littles were captivated the whole morning!
The Smithsonian Zoo was also fun to explore. Sadly, this time of year many animals are nowhere to be found but after searching the outdoor exhibit, we did find the pandas in the indoor exhibit. They were neat to watch!
When we arrived at The Walters Art Museum in Baltimore and discovered that babywearing was not allowed, I was annoyed but headed back to the van to locate our stroller. Upon entrance, it turns out I didn't really need it. Their children's area redeemed them in my eyes. A HUGE art room housed supplies and was staffed by two friendly ladies who directed us to a table, provided supplies and had us making our own sculptures. The littles loved it and their creations were…well, very creative!
They also boasted a rather large collection of wooden puzzles and other fun learning manipulatives that kept the little ones playing and exploring. Some were a little trickier and mommy had to lend a hand.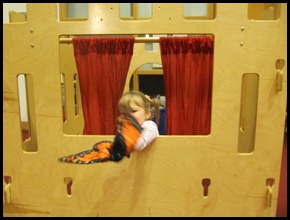 I grabbed a front row seat to watch the puppet show put on by Chloe. Inside this neat wooden house/puppet theatre was an entire bin of puppets just waiting to be played with. Sadly, this was the only photo I snapped.
We also visited the Norman Rockwell special exhibit there which was one of the main reasons for the trip. Chloe enjoyed looking at the different paintings and we played games to see if she could find certain things in the paintings. While perusing the gift shop on the way out, Chloe excitedly exclaimed, "Look, there are the same paintings we just saw!" I was surprised at how much she took in.