Before we left for bible camp, I stopped at the garage for an oil change. When we pulled in, Chloe excitedly asked, "Are we at camping?!?" Silly little bear.
When we arrived at Bible Camp, I set up the tent with a little "help" from Chloe and John. The air mattress had to be pumped up with a hand pump. John was surprisingly helpful in this area!
Our evenings were spent enjoying the fire and the treats that go along with campfires!
Our days were spent jumping,
horseback riding,
swimming and rolling in the mud,
playing on the GT,
napping,
water-sliding,
puddle jumping (or puddle-sitting),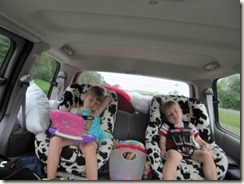 and our week ended with two sleeping tots on our way home! What an incredible time! The Lord spoke to me through so many of the messages, I made new friends, enjoyed our adventures and found plenty of quiet time to myself under a shady tree while the littles napped each day.
Now to tackle the laundry!