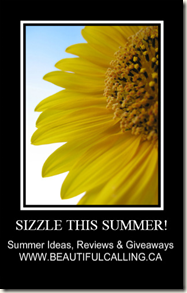 With summer fun ideas, product reviews, giveaways and some yummy summer recipes, we're going to Sizzle this Summer! Do you have a great summer recipe, a summer-related tip or a favorite summer activity? I'd love to include your ideas in the series this year. You can see last year's series here to get an idea of what the series will look like.
It's easy to participate: just email me your idea or recipe along with a brief sentence or two about yourself (i.e. Jenn is wife to one, mother of two and is blessed to be a SAHM). If you have a blog, make sure that you include the link! They can be sent to [email protected].
Review & Giveaway Lineup:
Dezign with a Z (5/31/10)
Baby Banz
UV Skinz
Eleven Shoes
TEVA Sandals
Epicure Selections Summer Essentials
Buncha Farmers from Jack Rabbits
AND A FEW SURPRISES!
If your company would like to participate in the series, please contact me for details [email protected].