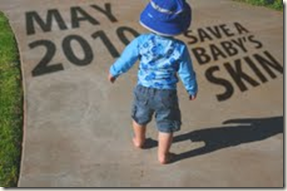 Last year during the Set for a Sizzling Summer Series, I was first introduced to UV Skinz. If you have a minute, I'd invite you to read last years review.
I fell in love with their products and with the company itself because they are determined to educate others about the importance of sun safety and the very real danger of cancer. Because of her own personal loss, she is committed to preventing more tragedies through research and education!
May is National Skin Cancer Awareness Month!
"UV Skinz is giving away free UV Protective Baby Swim Shirts to all customers who place an order this May in honor of National Skin Cancer Awareness Month. UV Skinz, your one-stop shop for UV Protective Swim Shirts and UV clothing, wants to ensure that even the youngest members of our families are given proper protection against skin cancer, which is dangerously on the rise in babies, children and teens. This is the third year in a row that UV Skinz has generously given away swimwear for their cause. Help them meet their goal of giving away 3,000 swim shirts for babies! Just visit www.uvskinz.com to learn more!

UV Skinz was started after Rhonda Sparks lost her 32-year-old husband to melanoma, the deadliest form of skin cancer.  It was this experience and being left to raise their three young boys on her own that gave her the determination to help bring products to the market that can help families live sun safe, while never forgetting how important it is to LIVE and HAVE FUN outdoors!"
So take advantage of this special; cover yourself and your littles today!
{Pssst: watch for another giveaway coming up in this Summer's Series!!}