I'm not a landscaper by any stretch of the imagination however, this year we are building a vegetable garden. I needed about 3 yards (approx. 2300 liters) of triple mix or garden dirt to do it.  I looked into buying it buy the bag at the store and at a few other companies known for their big bags however, they were all pretty pricey!
Then I came upon Dragonfly Landscape Supply. Located in St George, their tagline "We Sell Dirt Cheap" is really true. They are the most economical around at only $15 a yard for topsoil and $25 a yard for triple mix. They also have play sand for only $30 a yard – much cheaper than buying it for $3.99 a bag in store. If you don't need a whole yard, maybe split a load with a neighbor! They also have an assortment of gravel, crushed and whole stone, mulch, sod, grass seed and more.
Only 4 wheelbarrows into transporting my soil to the back yard my wheelbarrow broke! How untimely. Thankfully a neighbor was home and lent me hers but you know what? Dragonfly Landscape Supply actually rents wheelbarrows too! They also have a selection of garden tools (and wheelbarrows) available for purchase. How convenient to make a one stop shop!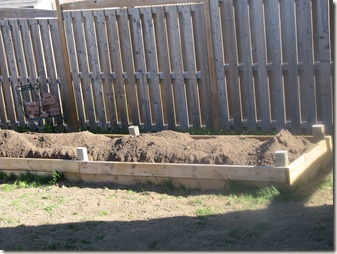 Dragonfly Landscape Supply offers same day pick up or delivery  to most of Southern Ontario from St. Catharine's to Ancaster to Long Point and all surrounding areas. Whether commercial or residential, they have you covered! If you have any questions about their services, prices or delivery areas please use their contact form or give them a call at 519-448-1449. Rosemary has 3 truck sizes so her prices vary any where from $40-$80 for delivery depending. She has an ad in the coupon clipper for one delivery charge on multiple deliveries. You'll want to take advantage of that!
Something I found especially helpful was their project estimator. I had no idea how much soil I should order for the garden but all I had to do was enter the length, width and height. It then told me how many cubic yards I would need to complete the project and brings up a drop down list product list. The project estimator is an incredible tool to help you figure out exactly what you need and what the costs are.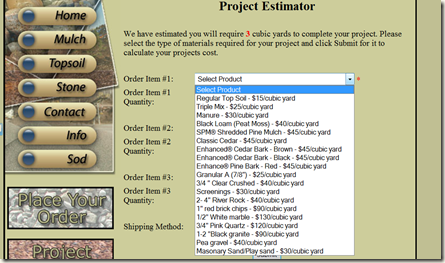 Rosemary and all her staff are friendly, knowledgeable and ready to help you! I had many questions about how to most effectively seed my yard and such. Their informative advice answered my many questions. I not only was thrilled with their price, customer service, order processing and delivery but I feel confident with the information provided so that I can  the steps I need to take to get the results I want.
You can find Dragonfly Landscape Supply on Facebook as well. They share tips, ideas, photos and more so be sure to pay them a visit either online or in store!
Full disclosure: Though I paid for my products, I received free delivery in exchange for writing about my experience with Dragonfly Landscape Supply. The above post is simply my honest opinions and not a paid advertisement.