Laundry Room:
With a 3 year old and a 1 1/2 year old, wearing cloth trainers at night and diapers full time respectively,  I spend a lot of time doing laundry. Because my attention is called this way and that throughout the day, sometimes I find myself with unfinished tasks. This often results in things being dumped in the laundry room to be dealt with later. Thus, it overflows with 'stuff' and it is hard to find what I need. Since we have to go through the laundry room to get to the garage from the house, it makes it especially difficult (and frustrating?) for DH to navigate the dangerous waters of the laundry room.
Participating in the challenge issued by Org Junkie, I tackled my laundry room. I just want to say that most of my house is fairly organized but I struggle with the laundry room.  I started by removing everything, she outlines this step in her PROCESS. I then cleaned, sorted and decided what was staying (essential laundry and cleaning items) and going (stray items donated, bulk cleaning items moved to bulk shelf in garage, things that belonged elsewhere put in their place etc.)
I decided to pare down my cleaning supplies. I like cleaning supplies; fun containers and colors, different scents and purposes. I have found that, though I like to browse the aisles and purchase things that appeal to me, I stick with my basics when cleaning. I have my Orange Glo furniture polish (smells awesome!), my Epicure All Purpose Cleaner (love it!), Nature Clean toilet bowl cleaner, Method Good for Wood (this one smells wonderful too, like almonds.) STOP. Why do I have two furniture polishes? The orange is almost done and I am replacing it with the Method one. Method is a company concerned about producing earth-friendly cleaners and I would rather support them. Nature Clean and Epicure cleaners are also environmentally friendly! I also have a container that use to have Method all purpose cleaner in it. I had used it all and kept the container. It now has the tiniest but of Nature Clean all purpose cleaner mixed with water. This is the solution that Chloe (3yrs) uses to clean with. I put all of these items along with a California blinds duster, my Epicure Bamboo cloth and two e-cloths (glass, dusting) into a caddy which makes it easy to grab and go without forgetting something. I do use Lysol Cleaning wipes in the powder room because it means I can quickly give an extra little clean frequently. I also have things like Armoral (car), heavy duty oven cleaner and my rug shampooer cleaner on the top shelf. These are things that I use a few times a year and need to keep for now. Anyway, anything I don't use any more or had a little left in I either gave away, disposed of, or put it in a prominent place to use up first.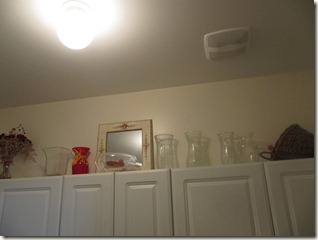 I still have a bunch of vases to give away. Our church is having a yard sale this summer so I plan to donate these. For the time being, I cleaned the top of my cupboards and put them up there in a display. They are out of the way and will find new homes come summer. I only need a few.
A while ago I had organized all our craft supplies and stored everything in the laundry room. Well, the cupboard that held books and school supplies has been moved to a more practical location however the craft supplies? There isn't anywhere that I could store them other than in the laundry room. They are against the wall by the dryer. All the drawers are organized. We do crafts at the dining room table and when John (1 1/2yrs) is a but older I will move them out there but now, for safety's sake, they need to still live here. Since I put my laundry basket on top of the bins anyway, I think it still works.
After everything was clean, as I put things back I gave some real thought to how the mess usually happens and how I could deal with it.
Containerizing. I love beautiful containers but right now a trip to the Container store is just too pricy and even the dollar store costs money.  Solution? I now use cloth wipes but used to use disposable. I have lots of those empty containers and I put things like my soap nuts, extra cloth wipes, mesh wash bags, cloths pins etc. into those. I also used cardboard fruit baskets to sort my cleaning cloths and gloves. Cost? None!
I throw kitchen laundry and towels into the washtub through the week but then need to use the wash tub. Solution? Oversized green laundry basket from the garage fits perfectly in the tub but means I can move it easily to get into the sink and not have towels all over. I also have a laundry basket in the corner for clothing. DH often takes his socks off on the main floor or the littles make a mess on their clothing during meals. Having a designated clothing basket separate from the smelly kitchen linens is a must
With no windows, I would love to paint and add some happy wall stickers in there to cheer it up. I saw some cute pink bubbles and such online once. I don't really want to spend any money right now though. Solution? I hung my Fall dining room centerpiece on the wall. It not only protects it from crunching during storage but it looks pretty. It's made of dried Chinese lantern flowers. I also put up a bulletin board a while ago. I tidied it up and will have Chloe make some new pictures for it. I also have a page on contentment up for me to read as I am in there. It's hard to be content about everything all the time isn't it?
My cupboards are sorted into Laundry/Ziploc, Epicure/Light bulbs and Household cleaning. A functional system for me which will help me know what products we have so I avoid overbuying.
I know sometimes clutter will still end up on my dryer. Solution? A basket! Now I don't actually like this particular basket however it was one we had. It's about the right size. I'll watch at yard sales or value village for one that will work for me. I use a downstairs basket and and upstairs basket system in my house and it works well. I simply leave them on the banister downstairs and upstairs, filling them as I go about my day. When I make a trip upstairs, I take the basket with me and put away anything that was in it and take it back down with me. Before implementing the basket principle, I would just pile things on the stairs to go up or down. The basket is much more effective. It means that I have a temporary holding space that has boundaries! I'm going to use that in my laundry room as well. I know it will work for me.
Kitchen Cupboards:
I also reorganized our  kitchen cupboards (which was going to be my original project until my laundry room started to overtake me!). I buy many baking items from my brother-in-law in bulk and needed to create space. We also got a sale on KD which my husband and littles love.  I moved some cupboards around, emptied them, gave them a cleaning, sorted, designated some things to be used up right away and threw out expired food items.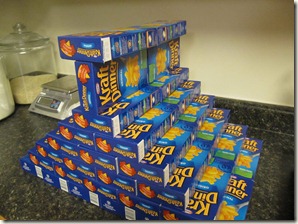 My DH's creation 🙂
Reflection Questions:
1. What was the hardest part of the challenge for you and were you able to overcome it? Starting! LOL. I also hate to get rid of anything. This challenge was a motivator though and because I wanted all the cleaning things to fit in the cupboard (and look nice for the photos), I was more ruthless than I usually would be. It helped me to truly identify what I really use and keep only that.
2. Tell us what kind of changes/habits you have put into place in order for your area/room to maintain its new order? Well, I mentioned some already but the biggest thing I think is having a cupboard specifically for my Epicure products. This means they actually have a home and aren't all over. The other biggie? Accepting that I will have things that end up there as a holding spot, and designating a limited space for them. Knowing that the basket principle works for me in other areas gives me confidence that it will work in our laundry room too.
3. What did you do with the "stuff" you were able to purge out of your newly organized space?
Random things to donate (bubble machine, mirror, collectables, old toys etc.) were put into a box and donated. I now have a special box to put donation things in and when it is full, I will take it down and donate it.
I love samples and free things. I had a whole whack of sample sized soaps. At first I put them in a prominent spot to use first but then realized that on our 3 week vacation this spring, I will take them with us to save money on our laundry bill. I put them in a baby wipe container.
Rogue socks went into my new "rogue sock basket" located in my bedroom where I do all the folding and sorting anyway.
Bulk cleaning items were moved to where all the other bulk items where.
I disposed of cleaning products I had tried but didn't like, keeping only the things I like and use regularly.
4. What creative storage solutions were you able to introduce in order to create additional space as well as establish some limits and boundaries?
Disposable Wipes Containers
Cardboard Fruit Baskets
Wall hanger for the broom and other items behind the door (dollar store)
Laundry basket found in garage
5. Why do you think you should win this challenge? See photo below.
When I first read the challenge, I thought, "I'll do the garage". Well, I opened the door and immediately was overwhelmed. I don't know where to start, how to start or where I can find the time since it is a task that can not involve the littles. I can work on it at night (dark) or during nap time (not much time!). I would have an almost 0 budget for the job. We don't have our basement available for storage so the garage houses everything: bikes, yard tools, seasonal clothing, camping gear, skating gear, old files, Christmas decorations, outgrown clothing that I was going to sell, things we've never unpacked since we moved in 5 years ago, things my husband is going to sell, the extra seat from my van, my strollers and more…
I have learned a lot about organizing from Org Junkie and am feeling confident of a job well done in the laundry room but that was just training for the real (and overwhelming) job I need to tackle very soon. The prizes you are offering would all assist in tacking an even bigger job ahead.
UPDATE:
When I cleaned out and better organized my cupboards, I found the perfect container for my laundry room to replace the metal basket I had in the original pictures. I didn't like the look of the metal basket or the fact that it may scratch my appliances. I love the vibrant color of this container! I do hope to replace the wicker basket there with a sorter laundry basket when I find a deal!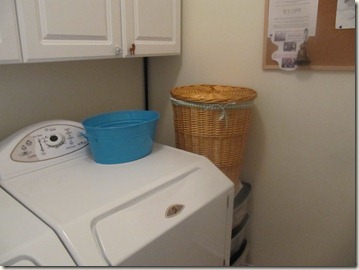 So hurray for me, and everyone else who accomplished big or little organizational challenges in February.