We've had some amazing weather for March. The littles enjoyed some outside time making mud-pies and having a grand old time!
It was warm enough that I put the cloth diapers out on the railing to dry. Oh, I love sunshine. When I turned around to go back in, little John greeted me at the door. Isn't he a doll?
John is wearing the same little wooden-shoe slippers that Chloe wore at that age. Nanny-granny and papa bought them for Chloe at a cheese shop in Thunder Bay.  
While the weather is happy for us, it is sad for all the snowmen who are no more. Every time we see a carrot on the ground, Chloe lamented the fact that, "dey all melted mom".
I already mentioned that we picked GG up from the airport last week (Chloe and John's grandmother). Chloe and John have had a wonderful week of story time, chalk-drawings, block castle building and memory making. Like Chloe's new shoes and tiarra? Thanks GG! We're looking forward to a few more days of fun before GG leaves on Thursday.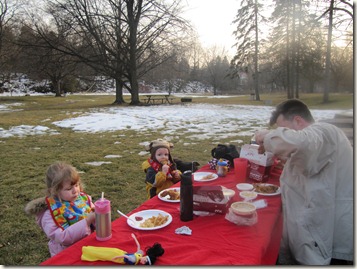 Last week daddy came home and told us we were off on an adventure; Webster's Falls for a picnic with KFC chicken. We had so much fun; thank you for the fun day daddy!
What an incredible week, we have so much to be thankful for!
What little things are you thankful for?
This post links to Gratituesday and the 30 Minute Challenge at Steady Mom though the uploading is slow and I am trying it yet again which technically disqualifies me I suppose. I did write it and pick the pics in less than 30 minutes though!