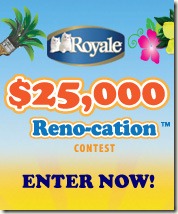 Ready to say goodbye to winter and hello to spring? Me too. Royale wants to give Canadian moms the chance to win a spectacular Renovation and Vacation Grand Prize, with 15 weekly Secondary prizes. How awesome does that sound!
Royale's $25,000 Reno-cation
– The Grand prize includes $13,000 to spend on a home renovation in any way the winner chooses AND an 11-day, $7,000 Royal Caribbean cruise for two on the "Jewel of the Seas."
– An additional $5,000 in prizes will be given away to secondary winners in the form of 15 weekly prize packs from the Royale Luxury Bath Collection that include a personal heated towel rack, new luxurious towels, and premium Royale robes.
So what are you waiting for? Go on over.
It's easy to enter you just need an email address.
You can also earn double points by playing Game of the Week!
Don't forget to earn bonus entries for referring friends.
My Ultimate Reno-cation?
I entered and spent a few moments dreaming about my ultimate reno-cation.  We live in a newer home so there aren't a lot of biggie renovations but I do have a list 🙂
My number one thing? Paint. I would love to have the interior painted. We have builders paint in our home which means it shows everything and you can't watch it. I have one spot where there was a chocolate milk splatter and I made the mistake of trying to wash it and now it looks worse than before. Anyhooo…
In my apartment before getting married, I had a larger kitchen that had drawers. Wonderful big drawers for pots, bowls etc. I would love some drawers in the kitchen.
I would love an in-counter sink where there is no lip on the counter. I saw one once and it looked so clean looking.
Our upstairs is quite cold in the winter. I'd love a fireplace in the master bedroom.
I don't know if back yards count but I would love to have a tree. New subdivisions = no trees 🙁
The vacation part? A Caribbean cruise sounds lovely, we've never been anywhere warm and beachy. Not that it is a great hardship but it would be fun. It's only for two though; not sure if I'd want to leave Chloe and John at home just yet. I'd have to give it some thought. Perhaps my dad and I could go and DH could stay home with the littles LOL. Dad likes snorkeling and such. We'd have a blast!
Win a Mini $100 Reno-cation at Beautiful Calling!
One of our Canadian readers is going to have their own mini reno-cation. That's right, we're offering up a $50 gift certificate to Home Hardware AND a $50 Cara Restaurant gift card (accepted at Swiss Chalet, Montana's, Milestones, Kelsey's and Harvey's). Pretty awesome huh?
How to Enter:
Leave a comment sharing what would your ultimate reno-cation be (1 entry).
Go enter the Royal Reno-cation contest and come back here to leave a comment saying you did (1 entry).
Blog about this giveaway linking back here (1 entry).
Put a link to this post on your facebook status (1 entry).
Subscribe via RSS to Beautiful Calling (1 entry).
Subscribe via email to Beautiful Calling (2 entries).
Grab my Button (2 entries).
Become a Facebook Fan (1 entry).
Ends April 27, 2010
Open to Canadian friends only this time. Spread the word!
This post was sponsored by Mom Central as part of a Blog Campaign. What does that mean? It means I receive a $50 gift certificate for offering up these giveaways to you.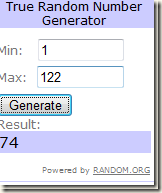 The $100 Reno-cation Winner is Suzquiz.
With no reply to email or winners call, after a week and a half, a new winner was chosen. This must be her lucky month because Winner is Rachel from Alberta, Canada not only won our ListPlanIt review but is now the new winner of the $100 Reno-cation giveaway.  You can see the Random Redraw Post here.