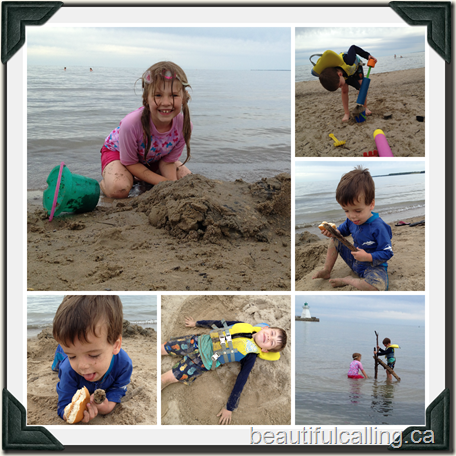 Daddy had to work late so after "noon nap" we packed up a few simple sandwiches and hit the road…you know for all of 12 minute…and piled out at the beach.
It was nice and warm, but overcast so the beach wasn't too crowded. Chloe and John enjoyed playing with their water blasters (thanks Aunty and Uncle), went swimming, made mud creations…they found driftwood and tried to make an underwater lair however they were frustrated because the wood kept floating. Eventually they tried to make an above-water club house but when that kept toppling over, they gave up and just went for a swim. Good thing too since John had previously been enjoying a wet, squishy mud bath.
Isaac enjoyed playing in the sand, finding and throwing sticks and then even army-crawled down the shoreline after a taunting seagull. I also believe he ate a good amount of sand, both on it's own and as part of his peanut butter sandwich.
I ended up with a good portion of the beach in my van, on my laundry room floor and in my beach bag but the extra clean up is definitely worth it.