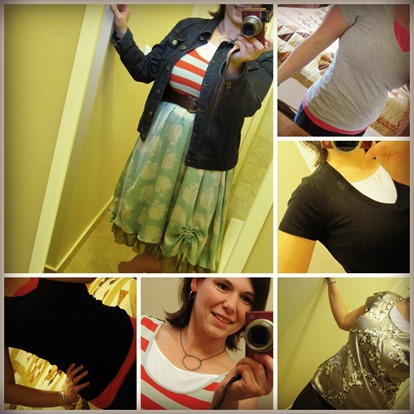 I discovered Modesty For Me this past spring. I immediately contacted them  about doing a review and Cindy was happy to partner up. Unfortunately, due to Isaac's health and appointments I was unable to complete the review at that time. I paid for the review cami that was sent to me and decided that when I had a moment, I would do a review of the camis simply because I love them.
My Cami Dilemma
I find that whatever I wear, I almost always find the tops too low. Even if they are not too low while standing upright, with three tots in tow, I am often bending over and find that the neckline doesn't give the coverage that I require to be comfortable.
While there are no shortage of camis and tanks on the market these days, again, none are quite perfect. I've had the following issues:
Regular camis – not quite high enough
Regular camis- not quite long enough
Regular camis – fabric is too spandexy = hot to wear.
Regular camis – limited colors
My Search
I've looked and looked in our local shops and nothing at all meets my needs on height and length. I spent time one day searching and examining all the camis I could find online. I came across many but for one reason or another, I was just not sold. Then I found Modesty for Me. At first, I only ordered two,  one black and one white. They are pricey and I wanted to be sure I was happy with the quality.
My Review Thoughts
Since my initial order of one white and one black with lace trim, I have ordered several more white, as well as a hot pink and a beige. I plan to order another black, no lace, a chocolate brown and perhaps another white or two. I wear them daily!
I wash cold and hang dry. I have had no issues with shrinkage.
They are comfortable and breathable cotton.
A little bit of stretch means they are smooth underneath tops.
The necklines are high enough – and with fully adjustable straps (not just that partial adjustment that some offer!), you  control the height of the neckline!
They are also long enough so that they don't roll around my middle and also can peek out the bottom of my tee if I so choose.
Lots of colors, with the lace option for a dressier look.
They wash well. I've been washing and wearing mine daily for over 6 months ago, am am very pleased with them. They show no to minimal wash wear and are holding up beautifully.
Good company customer service. I did have one small manufacturing issue with a cami and the seams of the straps. They responded promptly and the issue was taken care of.
My Verdict
Based on my 6 month experience with the wash/wear of these camis,  worth the price – they will last! If you have neckline and/or length concerns, I really would recommend giving these a try!
Right now use coupon code FS2013 for FREE shipping within most states!