You all know I love chocolate and that I'm a huge fan of Kinder chocolate? You also know that I'm a #Kindermom and I'm a big fan of the company because they support the Children's Miracle Network.
The topic for this month? Uniqueness!
We have three little tots: Chloe (6), John (4) and Isaac (2). All three are amazing and amazingly unique.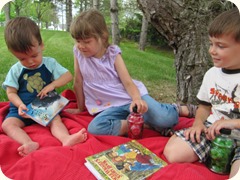 Chloe, my first born, is giggly and happy. She's independent and full in ingenuity. John, my middle man, sticks closer to home. He talks a lot, loves sticks and army men and is in a clumsy stage right now.
And then there is Isaac.
Isaac a most unique little person. After suffering a stroke in utero, then having  other health complications, Isaac isn't your typical child. His second birthday was this week and we are so proud of him that he is able tot sit up; a huge accomplishment and milestone for him just in time for his second birthday. He doesn't speak, nor is he able to do sign language as of yet, however he communicates so much in unique ways via facial and body expressions. He is one of the happiest, most delightful little people in my life.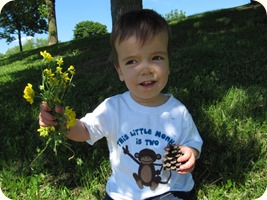 Being able to sit up on his second birthday.
Last week we received a box of delicious eggs in the mail – with the new pink toys!! The timing is perfect. We will be delivering them to the NICU nursery nurses in honor of Isaac's second birthday.
The Kinder® Surprise® Pink have over 30 new playful toys inside so I think we're going to nip a couple eggs before delivering the box. Chloe and John just love the little toys and they are perfect for road trips and little play things while camping this summer.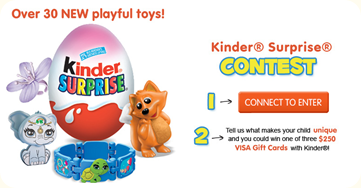 In case you haven't heard the big news – Kinder has a big old contest going right now on their facebook page. You don't want to miss it. You get to brag on your tots and the chance to win some cash just in time for summer.
Facebook Contest:

Starting May 29th, for three weeks, your readers will be able to participate simply by becoming a friend of Kinder Canada and telling Kinder Canada what makes their child so unique! A member of your community could be lucky enough to scoop up one of three $250 VISA gift cards! Contest will be live from May 29 to June 19.
So, what makes your child unique?
#KINDERMom
Disclosure: I'm part of the KINDER® Mom program and I receive special perks as part of my affiliation with this group. The opinions on this blog are my own.