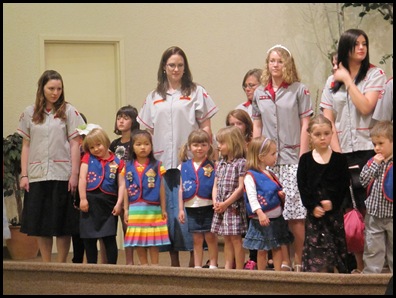 May 2011 Part of the Cubbies Class (sorry to the mommies whose little people aren't in this picture)
Our Awana Club wraps up early; the awards ceremony was last week. This was Chloe's first year in Cubbies. She finished her first book, then since she is in Cubbies for two years, she reviewed her first book rather than moving on to the next book, as she will do that in the coming year.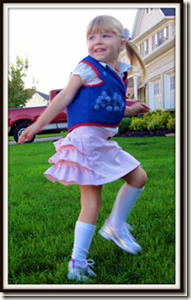 Sept 2010 – Chloe earned her Hopper Patch
So when you finish your first book you earn a little Cubbie Bear that is sewn onto your vest. When you finish your second book, you earn the second book ribbon. Chloe's friend, who is only in Cubbies for one year, completed both books this year (an impressive feat!) and thus earned both the first and second book award. Chloe was a little sad telling me, "Mommy, this is a bear. I wanted an award". Poor little girl, next year!

First Book Award

Second Book Award
I hope you enjoy this little video of the children singing their Cubbies Theme Song. My favorite part is the hopping!
I am thankful to have grown up in Awana; with the opportunity to have fun, make friends and hide God's word in my heart permanently. I'm so thankful that my children have the opportunity to go now too. Have you ever heard of Awana?