What do we look for in toys?
Durable, quality
Classic, timeless
Inspires creativity
Requires imagination
Demands interaction
Educational in some way
Can grow with the child in some capacity
Improves motor skills
Preferably no batteries
That being said, everything doesn't have to always be educational. Chloe does have Barbies, Strawberry Shortcake and My Little Ponies, which she loves. John has his little action figures.  We also do have a few battery toys too.
I guess that is why we love the lauri products. They use their pegs to create all sorts of games, make swords, towers, houses. They count them, sort them by colors, make patterns. Later on, we will use these as math manipulatives when we reach that stage of our home school journey. Lauri also makes a monkey version, which John received for Christmas. He enjoys those as well and they are compatible with their current peg system, which is kind of neat.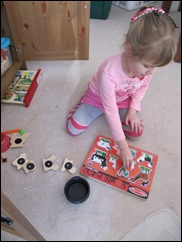 What qualities and characteristics do you look for in a toy?