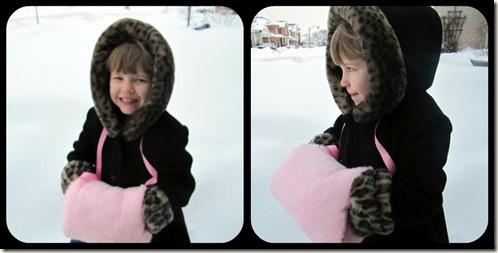 Is this not beautiful? Chloe and the Muff!
Following a snowstorm, the temperature has plunged around these parts. Brrr. Chloe was delighted the day that the mailman delivered a package for her; a beautifully wrapped muff from Designs by K & L. Not yet four, she opened it, exclaimed with delight over it's pinkness and softness and then asked me what it was.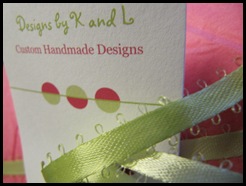 It was a beautiful moment as I explained what it was and how mommy and Aunty Sandy used to wear muffs to church when we were little girls. Watching the understanding come in to her eyes as she slipped it on…priceless!
A while back, I introduced you to Designs by K & L. I had discovered them scouring the world for a beautiful muff for my daughter. It arrived at the beginning of January and we've been enjoying it greatly.
It's the perfect size and the beauty of a muff? It grows with you. Chloe will easily use this beautiful creation for years to come. The muff exterior is a  beautiful and soft faux fur, the inner material is a sweet, silky satin which allows cold, damp hands to slide in easily. It's nice and full; sure to keep those little hands warm. The ribbon around the neck is beautiful and a good length, now and for later.
I absolutely love the classic look of a muff and the sweetness it adds to an outfit. Perfect for little girls and big girls alike. Designs by K & L actually have beautiful mother/daughter muff duos! A little bit of an indulgence but a perfect gift idea and definitely heirloom quality. Weddings, church or just turning every day into extraordinary; Designs by K & L are the finishing touch for a princess!
Designs by K & L is a delightful shop; visit her today! For a limited time, save 10% with the discount coupon code SAVE10.
Did you have a muff as a child? Did you want one?