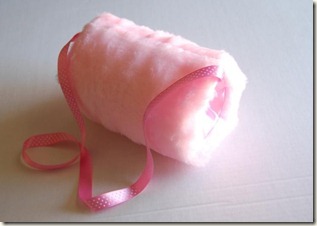 Photo & Muff by DesignsbyKandL
I discovered Etsy shops this summer. I've made a few purchases and have spent a whole lot of time mooning over many of the beautiful items, lamenting my lack of skill in all things crafty. One day, I saw this muff. It's stunning.
Katie started making muffs about 8 years ago in answer to a need in the market. She was planning her winter wedding and wanted to use them in place of flowers. After an unsuccessful internet search for affordable ones, she and her mother decided to attempt to sew them. About a year later, they went into business. Her goal is to bring them back in style. They are practical and stylish.
When the email from Designs by K and L popped into my inbox and I realized I would have the opportunity to review this beautiful muff, I was ecstatic because I know a certain little pink-loving blonde who will love it! Watch for the review because I think the pictures for it will be darling!
I had a muff as a child. A beautiful white one. I think I may have had a white matching coat as well, fluffy and soft. I don't remember the coat so well but, oh, that muff! I remember feeling like a little princess when I wore it to church. I remember the softness, and wiggling my fingers around as I slid my icy fingers into it's softness to get them warm.
A muff is the perfect solution for sweet little hands on chilly days as we head to church, the store or to do errands. I can't wait to see the delight in Chloe's eyes when she first slips her little hands into it's softness. Will she feel like a princess they way I did? I hope so!
Perfect for weddings in cooler weather. Beautiful, functional, luxurious.
If you have a girly little one (or a bigger one) in your life, you may want to get your Christmas order in fast. Or you could treat yourself 🙂 Designs by K and L muffs come in so many colors and patterns. Have fun deciding on one!
So, share away. I know I'm not the only one with fond memories of my winter muff!