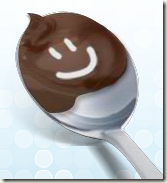 Smiles are contagious and effective. Never underestimate the difference your smile can make in someone's day…or life! Teaching my little ones the importance of sharing and giving is important to me and there is no better way that to do so by example. A few small, practical ways we try to do this are:
Greeting people we walk past or in the grocery store line etc. with a smile and "hello".
Writing notes and coloring pictures to mail to seniors and shut-ins.
Baking cookies or snacks to surprise our neighbors, family or friends.
Making a phone call to someone for no reason.
Making cards for someone not feeling well.
Giving change, when we can, to someone on the street who asks. And if we can't give money, we at least give a smile.
Snack Pack Canada wants to put smiles on faces this year. Join the Share a Smile Campaign and hope to help them reach their goal of raising $20,000 for Food Banks Canada in time for the holidays! Each and every day adults and children alike go hungry and the holidays are no exception. That's why Snack Pack Canada has teamed up with Food Banks Canada for their Share a Smile campaign.
Every day for the next 10 weeks on their facebook page,  you'll see a new idea for different ways to enjoy a smile with a Snack Pack. Make a little promise to yourself to indulge in a little afternoon fun and accept the challenge. Knowing that you're helping to feed the hungry should bring a little extra smile to your day!

How the Share a Smile Campaign Works:
Visit Snack Pack Canada where you can join them on facebook, Share a Smile (on the Smile Tab) and:
A $1 donation will be made on your behalf to, Food Banks Canada. You can also opt to Share a Smile and Snack Pack will make the donation on behalf of one of your Facebook friends.
You'll receive a ballot into their weekly prize draw (for those who have registered for the contest)
PLUS You'll earn a point towards one of the fun Smile badges!Remember, the more often you smile, the more donations, ballots and badge points you'll collect. It's no surprise that Smiling everyday would have its perks in the contest and life in general!
I smiled today. Did you?
Disclosure – I am participating in the Snack Pack program by Mom Central on behalf of Conagra Foods Canada. I received a gift card as a thank you for my participation. The opinions on this blog are my own. I wish could say I had received some chocolate pudding (yum!) but I didn't. Too bad!