What We're Playing
Are you familiar with kijiji? I'm well acquainted with it and was delighted to find a tub of Lincoln Logs Great West Express for a steal. I love toys that inspire creativity, require imagination and demand interactive play rather than provide entertainment.
We haven't yet mastered the art of building the actually buildings with these yet but we've had fun with them anyway, together and on their own.
We spent many creative moments with play-doh as well. Making pies, using cookie cutters, scissors, rolling pins; all this playing and they have no idea that they are learning and perfecting their fine motor skills. Learning through play; I love it!

Books We're Reading
Jesse Bear, What will You Wear? This is one of the books in the BFIAR curriculum that we have visited over and over. I found a wonderful printable paper-doll Jesse Bear that we did this week. We got to change his outfits from winter to spring to summer. They loved it, though John had a little trouble getting the outfits to stay on and mommy did the fine cutting since neither have mastered fine cutting yet.
Leading Little Ones to God – We started a new devotional book last week and so far I am really happy with it. We've read a few devotional books, mostly just bible stories up until now. This new book is more bible truths rather than just stories. It has a simple lesson, like how God is a spirit and we can't see Him but we can see His creation. It seems to contain things that we just take for granted but that little ones need to learn. It has a little lesson then a short bible reading passage (which we read or don't read depending on the attention span on any given day. Moms of tots will understand!). It also has a guideline for a suggested prayer and a song to sing for the day. Some of the songs are OK and I do think it is important to teach our little ones traditional hymns but I wish that the songs were just a tad more child-friendly. I haven't really been using the songs, I've asked Chloe, do we know a song about the lesson? We've been able to come up with a related song each day so we're on a roll! We spend 15 minutes max. on our lesson and this includes any bible reading, prayer and songs. At this age, short and sweet!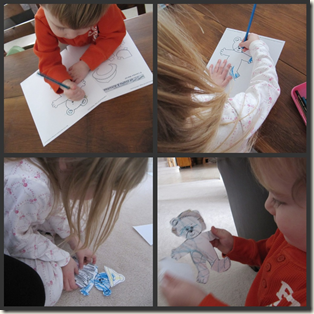 Jesse Bear cut out doll printable
This post links up to
Tot School
and
Preschool Corner
– linkups of ideas for you and your tot!
Chloe is 4 years old, John is 30 months