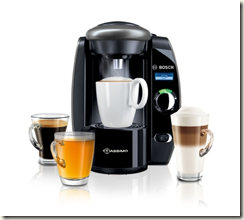 Tassimo; it's on it's way to becoming a household name. While I am not a coffee drinker, when I was approached to do a review, even I was aware of the Tassimo fame!
I received Starbucks House Blend and a Nabob Cappuccino to try in my new Tassimo. But those are just two of the many products available and there is definitely a flavor for every palate! I rushed out to get the Suchard Hot Chocolate, "authentic, smooth and creamy, this decadent European beverage is full of rich flavour." How awesome does that sound? I'm also looking forward to trying the Chai Tea as well.
My true indulgence? Delicious hot chocolate. I'm a chocolate addict you see and a delicious mug of hot chocolate almost always satisfies that desire! Sometimes I top it with a marshmallow, watching it melt slowly into the cup but I am particularly partial to a whip cream topping with shaved chocolate.
I had a delightful caramel hot chocolate concoction at Starbucks the other day but now I am able to make these delightful creations from the comfort of my own home; one perfect cup at a time! They also have some fun recipe ideas that I am looking forward to trying.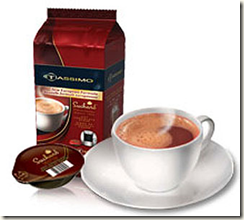 I had a friend over the other day and presented him with a steaming, freshly brewed cup of coffee which he enjoyed greatly. My mother, an avid coffee drinker, was not delighted with her cup, saying it was much too strong. I think I just need to find the right one for her.
I love being able to make the perfect, custom cup for my guests and myself.
It's very simple to use, simply filling the water tank, inserting a portioned disc and pressing start. It's amazingly fast. It also has it's own water filter which ensures that no impurities or tap water additives affect the taste! How neat is that?!?
It's compact design means it fits well on my counter and I appreciate it's sleek look!
BUY IT!
The New Year  is the perfect time to indulge yourself (or your spouse) and buy a Tassimo. My husband saw some great deals on at Walmart the other day.
Disclosure: Thank you to Tassimo for the complementary machine and coffee samples, all of which were used to facilitate this review. All opinions expressed are, as always, my own!