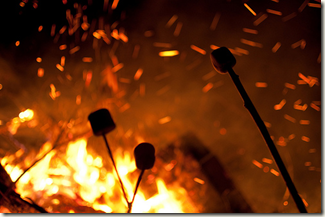 Well this week will be quiet around here. The littles and I are camping for the entire week. No access to internet, emails, phones…just a tent, nature, lots of great books and some amazing opportunities for adventures and memory-making!
I saved some great links I read in June to share with while I was gone. Have a read; I know you'll be blessed.
Mom Guilt @ Simple Mom was just what I needed to read after returning from vacation and facing a to-do list a mile long.
Keeping the Little in Little Girl @ Raising Homemakers had some great ideas as did the comment section. Little girls seem to grow up more quickly these days and I think that is a shame. Girls or boys; childhood is so fleeting, let's help them enjoy it as long as possible.
How to Make Things Harder and Do Nothing @ Simple Notebook spoke to me fore sure. I don't know how often I battle with wanting to finish a job fully, completely and perfectly when I would be better off just doing what I can and actually accomplishing something!
Am I Sexy Enough? @ (in)courage had a lovely post. Yes, womanhood, wifehood, motherhood are all beautiful, fulfilling and God-honoring callings!
I'm Dreaming of Mommy Bloggers @ Steady Mom isn't just about mommy bloggers but women in general. Comparrison is something that most of us struggle with from time to time; forgetting that we are just what God made us to be. I'm the best wife and mother…for my husband and children. You're the best for your own 🙂
When Jesus Isn't Enough @ We are THAT Family brought tears to my eyes and a sadness to my heart, for if I am honest, often Jesus isn't enough in my life…
How Busy Are You Really? @ Scribbit "Instead of busy-ness being a sign of disorganization, the inability to prioritize, a tendency to take too much on and a misuse of our most valuable resource (i.e. time) busy-ness has come to be honored as a sign of prestige…I don't admire people who run about from one task to the next with little time in between for humanity but we've been brainwashed to think that they're productive and efficient…" Wow, how often have I uttered, "busy" in response to the simple question of how are you? This is a must read!
Martyr is Not Spelled Mom @ Inspired Mom was a wonderful reminder that 'the more we sacrifice the better mom we are' is not actually true. I loved this, "Your job is to pass out torches from what burns inside and makes you come alive"
Don't forget to enter these great giveaways before they end!
Pocket Disc Giveaway (Can & USA 7/31)
UV Skinz Giveaway (Can & USA 7/24)
And just a little reminder; random comments are sometimes held for moderation. If your comment isn't showing up, I'll publish it when I return