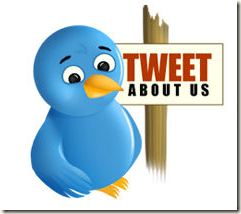 Well, beautifulcall is now on twitter! I took all your emails to heart and joined. I'm still pretty twitter-clueless but learning, so be patient 🙂
It seems easy to join but a little tougher to decipher how to use it. I participated in my first twitter party last night with @UVSkinz! It was fun and full of information.
I'm still not sure how to make tiny links to tweet and sometimes find it a bit confusing but I'm on my way!
Are you on twitter? Any advice for a newbie tweeter?