I love to read! While I have a ton of great books on my reading list for the year, I didn't include a single fiction book! Why? Because there are tons of fiction books out there and since I have limited reading time, I want to make sure I pick a good one. I usually go into our local Christian store and peruse the shelf, reading not only the back but random snippets throughout the book or else I make my selection based on  recommendations from a friend.
I hope that you will consider any reviews that you find here at Beautiful Calling to simply be a shared conversation between friends.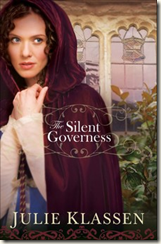 Who is Julie Klassen? She's a fiction writer with a background in advertising. She has loved writing since she was a child had has published three books thus far. All historical fiction. She and her husband live near St. Paul, MN. She is a mother of two.
"I was asked recently why Regency-period novels remain popular, and I think it is because its characters are so noble. Restrained by a high moral code and the rules of polite society, they must overcome obstacles of class, situation, and misunderstanding to gain what we all long for—true love."
The Silent Governess is a well written historical Christian romance and is just up my alley. I will be careful not to spoil the ending but I will say that it ends happily. When I escape to the land of fiction, that is an important factor for me. While many books often start out slowly, developing the characters at the onset, Julie just dives right in and you are immediately involved in the story. A lot happens during the first few chapters and I loved it! She does a great job of developing the characters through the story, events, their speech and actions. I feel that I know them; I have empathy, sympathy, excitement, and concern along with them and for them. They became my friends.
"Olivia Keene is fleeing her own secret. She never intended to overhear his.

But now that she has, what is Lord Bradley to do with her? He cannot let her go, for were the truth to get out, he would lose everything–his reputation, his inheritance, his very home.

He gives Miss Keene little choice but to accept a post at Brightwell Court, where he can make certain she does not spread what she heard. Keeping an eye on the young woman as she cares for the children, he finds himself drawn to her, even as he struggles against the growing attraction. The clever Miss Keene is definitely hiding something."
I thought the book was a great length at 438 pages I felt like I really got a story. I picked up this book and then had a hard time putting it back down again. This can be a good thing or a bad thing 🙂 I was anxious to get to the end, to know how it would all turn out. Yet, when I arrived there, it was kind of a disappointment. Not the ending itself, but disappointed that the book was over. I was caught up in their lives; they were so real to me and now the friendship was over.  It's hard to explain. Does anyone else ever get that feeling? You know it is a good book when you feel that way!
The book had just enough. Just enough trials, just enough  adventure, just enough opposition, just enough romance. I thought it was beautifully balanced which makes for a great read!
I was a little disappointed that there wasn't more to the characters "finding God" near the end and would have liked the plan of salvation presented though I suppose it was written the way it was to appeal to a larger audience regardless of denomination. That is the only thing I would change.
My Verdict? Rush out and buy it or better yet, Buy It Now though my Amazon Affiliate Link.  It is well worth your time and money! I loved the Silent Governess by Julie Klassen. Based on my experience with the Silent Governess, I definitely want to read the other books written by Julie.
Available January 2010 at your favorite bookseller. Thank you to Graf-Martin for the book for review.